This past weekend, President Thomas S. Monson dedicated the 144th temple for The Church of Jesus Christ of Latter-day Saints.
The Phoenix Arizona Temple dedication took place on Sunday, November 16, 2014 and included three different dedicatory sessions. Hundreds of faithful Latter-day Saints attended these inside the temple, while thousands more watched the dedication via satellite broadcast in Arizona chapels.
Elder Dallin H. Oaks conducted the cornerstone ceremony, which takes place outside for public viewing. This symbolic ceremony marks the conclusion of construction and reminds people that Jesus Christ is the chief cornerstone of the Church.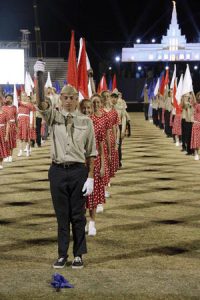 Prior to the dedication, more than 4,300 youth participated in a cultural celebration on Saturday, November 15. The celebration, entitled "Be a Light," featured music and dance performances representing the significant history and culture of the area. The youth paid tribute to the military and celebrated a culture of service and the 5 C's of Arizona—copper, cattle, cotton, citrus and climate. The celebration ended with the missionaries serving in the Phoenix mission marching on the field carrying flags from many different countries. The youth that participated in the celebration are from Phoenix and the surrounding towns of Buckeye, Cottonwood, Deer Valley, Glendale, Goodyear, Peoria, Prescott and Surprise.
According to Mormon Newsroom, President Dieter F. Uchtdorf spoke at the celebration and expressed to the youth of their goodness, saying,
You are indeed the strength of the youth. In many ways you represent even more Cs whether it's caring, cheerful or courageous, and tonight you are also cool.
The Phoenix Arizona Temple is one of five temples in Arizona and the 144th operating temple world-wide.