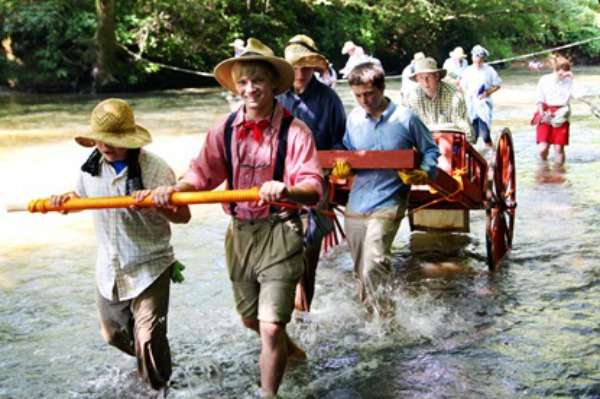 Well, it's official: the season for wearing bonnets and aprons, suspenders and wide-brimmed hats, and for pulling handcarts across the desert is here. Okay…so maybe that's only what summer means for Mormons. Each year thousands of youth who are members of The Church of Jesus-Christ of Latter-day Saints embark on a 3-day hike, where participants are given the opportunity to walk a mile—or 20—in the shoes of the early Saints. The youth are split up into families and are assigned a Ma and Pa—adult volunteers from the Church—to supervise, encourage, and help the youth.
Trek can definitely be an enlightening and testimony strengthening experience, but as the twitter hash-tag #trekprobs suggests, it can also be difficult for participants—both young and old—who come unprepared. LDS.net has come up with 9 suggestions to help you survive your pioneer trek!
1. Avoid Soda—Bring Plenty of Water and Sports Drinks
ive spent the last hour trying to find the perfect amount of powdered gatorade to put in a trek mug..#trekprobs pic.twitter.com/BG0xnFRRsm

— Caitlin (@FacetiousC47) June 18, 2013
Sugary sodas and other similar drinks cause dehydration and provide no nutritional value. While hiking long distances in warm clothing and pulling a heavy handcart, it is necessary to remember the importance of regularly hydrating—this means drinking liquids that will refresh you and give you electrolytes. Water and sports drinks, such as Gatorade, can help hikers stay hydrated. Some stakes will even put all participants on a bathroom schedule. This encourages participants to drink more fluids so that they are able to urinate more frequently, thus helping everyone to stay hydrated.
2. Don't Underestimate the Power of Sugar
I still can't even be in the same room as beef jerky….😷 #trekprobs

— Loren Rhodes (@LorenRhodes8) August 27, 2013
Don't forget that a candy bar goes a long way. Obviously, eating a diet consisting just of sugary snacks is not healthy nor sustainable. However, if participants are eating balanced meals throughout the day, candy can help provide the necessary energy boost needed to make it through the last mile or two of the day.
3. Hat and Sunscreen
That awkward moment when you thought you got tan but then you get in the shower… #trekprobs

— aly arnett (@alyjeanne9) April 19, 2014
Items like hats and sunscreen are essential! The sun can be dangerous if one does not take certain precautions. Getting a sunburn on the first day makes for a painful three days.
4. Wear Good Hiking/Gym Shoes
Nail lady asked why my toe nails are broken & bruised… #trek2013 #pioneertrek #sacrifices pic.twitter.com/vn6Sl9ozAc

— Me (@Tamara_Tran) July 9, 2013
Hiking 20 miles while pulling handcarts full of everyone's belongings is no easy task. Wearing shoes that are durable, comfortable, and broken-in are essential to enjoying trek. Wearing old shoes without support or cushioning will cause foot pain, and wearing brand new shoes will cause blisters. Make sure you test the shoes you plan on wearing on a hike prior to trek to see how they hold up…or you may just end up with bruised and broken toe nails…
5. Prep for Possible Illnesses and Injuries
Why does my face have to be swollen and numb? #trekprobs

— Bay (@BaYs1020) June 9, 2013
Expect the unexpected! Blisters, heat stroke, dehydration, poison ivy, broken bones, sunburns, bug bites, snake bites, allergic reactions, bee stings, diarrhea, chaffing,  hypothermia, blackened toenails, shin splints, pulled muscles, exhaustion, back discomfort, insomnia, food poisoning/flu, and altitude sickness…just to name a few. Make sure necessary medications, tools, and equipment are available to help if any of these situations arise.
6. Know the Risks of the Area
#TBT to the pioneer trek back in the day. Remember how it was 95 degrees in AZ and we were supposed to go 8 miles but went 16? #TrekProbs

— Ashley Dewey (@Dewster9) June 5, 2014
Different stakes experience different risks while on trek due to differences in location. Some regional areas have to look out for snakes and extreme heat, while others have to look out for cougars and severe thunderstorms. Become familiar with the region your hike will be taking place and prepare yourself accordingly.
7. Bring Change of Clothes
Picking up kidz at #pioneertrek, heard this young Brotha say, pioneer clothing aren't my thang!! pic.twitter.com/xJO67ToOLw

— Sistas in Zion (@SISTASinZION) June 22, 2013
Often times, participants want to get the full pioneer experience and decide not to bring a change of clothing. DO NOT DO THIS. Living during the 21st century, people are used to clean clothing. Clothing that is worn on a hike in the summer heat is bound to get dirty and grimy fairly quickly. Wearing the same outfit for the full three days can cause chaffing and an unbearable stench.
8. Start Your Technology Fast Early
There was an amazing sunset on Wyoming and all I could think was I didn't have my phone to take a picture of it. #trekprobs

— Aaron S. (@AaronStartup) June 9, 2013
We live in a technological era. Going on a technology fast is not easy when we are used to constantly checking facebook, twitter, and our text messages. Starting to wean yourself off of your cell phone and other technology a few days before the trek start will make the "tech fast" easier than just attempting it cold-turkey.
9. Encourage Each Other!
Ma and Pa survived trek! Proud of them. #pioneertrek #ma&pa jolettefranco ecito2001 http://t.co/cH9IzJ5IO0

— Joslyn Baker (@JoslynBaker11) June 29, 2013
An encouraging word and a helping hand go far. While on trek, if you see someone struggling, help them along the way and let them know they can do it!
Review the Church's trek handcart guide at LDS.org, and remember: "Put your shoulder to the wheel…push along!"