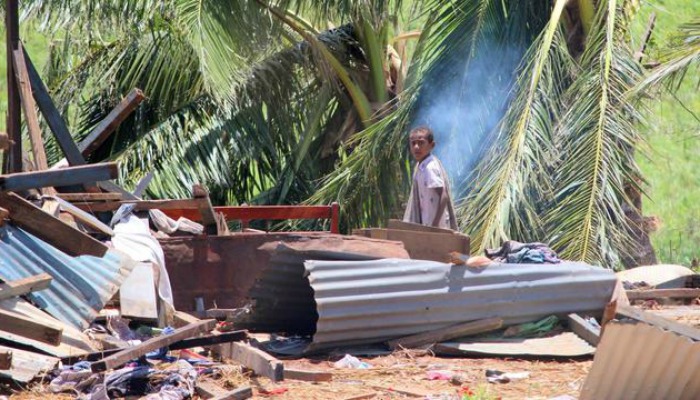 In a news release, The Church of Jesus Christ of Latter-day Saints gave members an update on Fiji following Cyclone Winston's damage.
Cyclone Winston, the largest tropical storm ever recorded in the Southern Hemisphere, killed at least 42 people on the islands of Fiji. Mormon Newsroom reports that at one point the storm's winds reached 354 kilometers, or roughly 220 miles per hour.
The storm forced organizers of the February 20th Cultural Celebration for the Suva Fiji Temple to cut the event short. Several numbers of the celebration were skipped as the organizers jumped to the end of the program to have the 1,300 youth perform the finale, allowing everyone to get to safety before the brunt of the storm hit.
Local Church leader in Fiji, Elder Adolf Johansson, reported on the damage the cyclone brought to the Saints in Fiji.
Johansson reported that all Church missionaries serving in Fiji have been accounted for and are safe, there are no reports of member casualties or injuries from local leaders, all Church properties are being assessed for damages, and the Suva Fiji Temple sustained no damage.
Many youth and parents from the outer islands are still in Suva from the cultural celebration awaiting a ferry to take them back home.
"Members are moving into Church meetinghouses as the need arises," Johansson explained. "The members in the Nausori and Lautoka Stakes [local units of the Church] are affected by flooding, and some are cut off as bridges have been washed away. Suva and Suva North Stakes have damages to property, mainly from falling trees. But members are in good spirits, although power has been cut throughout the country for three days."
Johansson also reported that members in the Taveuni district were also affected, but all are safe. Some are staying in meetinghouses, and the Church has sent funds to cover the cost of any available food.
Out of the 45 meetinghouses in Fiji, 26 have been inspected and only minor damage—fallen trees, damage to fences or water tank damage—has been reported.
Church leaders are continuing to assess the needs of the members in Fiji.