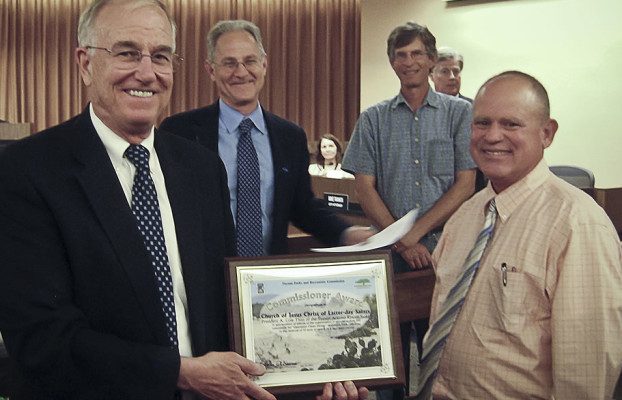 The mayor of Tucson, Jonathan Rothschild, presented the Commissioner's Award to the Tucson Arizona Rincon Stake of The Church of Jesus Christ of Latter-day Saints. Arizona Mormon News (AMN) reports that this award is given on behalf of the Tucson Parks and Recreation Commission, which honors individuals and organizations annually.
President A. Cole Thies and Public Affairs Director Ric Nielsen, of the Rincon Stake,accepted the award on behalf of the members of the stake. AMN reports that the award reads:
"Our gratitude to The Church of Jesus Christ of Latter Day Saints. In appreciation of efforts of the organization in providing over 200 volunteers for 'Operation Clean Sweep' at Groves Park, resulting in the removal of 33 tons of debris in a four-hour period."
This is just one example of how members of the Church are serving, helping, and impacting their communities through service. What are some of your favorite ways to serve? Tell us in the comments below.