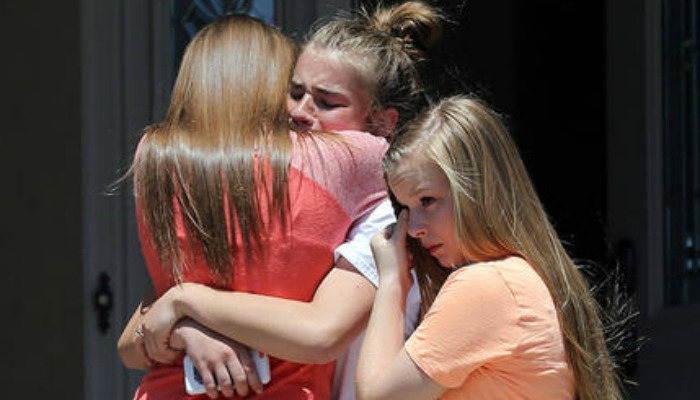 Tiffany Stoker, 14, and Tylinn Tilley, 13, survived a tragic boat accident on Bear Lake in Northern Utah on Monday that killed four.
In total, nine girls, four mothers and one father made the trip, but some of them decided to stay on shore for the last run of the day. It was while on that last run that a storm rolled in and caused the boat to capsize. After hours in the water, hypothermia took the lives of Dr. Lance Capener and his two daughters, Kelsey, 13, and Kilee, 7, and family friend Siera Hadley, 13. Kathryn Capener, Lance's wife, and Tiffany and Tylinn survived.
When the boat first capsized, the group attempted to stay close together, but as the waves grew, Lance, Kathryn and Kilee became separated from the other girls.
In an attempt to find help, Tiffany and Tylinn began swimming to shore while Kelsey and Hadley stayed with the boat. Tiffany and Tylinn swam for three hours singing primary songs and shouting prayers to each other in order to be heard over the waves. When one of their muscles would start to cramp, the other would massage it. If one of the girls got tired, the other would encourage her, or even tease her, to keep swimming.
Jeff Stoker, father of Tiffany, wrote on his Facebook,
I am so grateful that Tiffany had Tylinn to be with her. They truly kept each other alive… I am grateful they were together. We are also so full of grief for our friends' losses.
Tylinn's father, Lance Tilley, also took to Facebook to express his own sorrow and gratitude. "What can you possibly say to express the sorrow you feel while breathing a sigh of relief for yourself. It is not fair. I loved these people," Tilley wrote. "Why did it happen? Who knows. We will never know. But I know that prayers are heard and answered but not always the way want or expect, but they are heard and answered."
The two teenage survivors were taken to the hospital after the rescue, but are now at home recovering. Deseret News reports that Tilley said, "Physically [Tylinn's] doing really well. Emotionally, she's got a long road to haul. … These seven girls (on the trip) were absolutely inseparable. They've been friends forever."

Kathryn is hospitalized at Logan Regional Hospital but expects to be released soon.