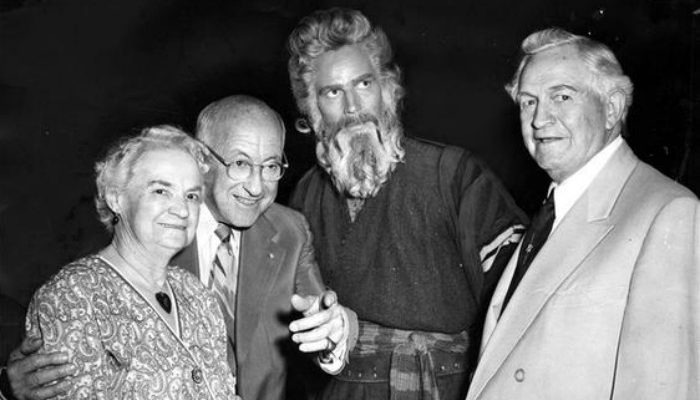 The new movie "Exodous: Gods and Kings," coming to theaters this weekend will undoubtedly draw comparisons to Cecil B. DeMille's epic classic "The Ten Commandments." Cecil B. DeMille is remembered fondly in the LDS community as a nonmember who championed faith and virtue as well as a friend to David O. McKay, the sixth president of The Church of Jesus Christ of Latter-day Saints.
There is no record of when DeMille first met President McKay. However, President McKay did take the legendary filmmaker on a tour of the Los Angeles Temple during its open house prior to its March 1956 dedication. Cecil B. DeMille was not a churchgoer but he had religious inclinations and enjoyed being around religious leaders. DeMille had a sincere and warm friendship with President McKay, whom he described as "a great-hearted, loveable man who is literally a Latter-day Saint."
DeMille had a habit of premiering his films outside of Hollywood, but was strongly discouraged by Paramount when he proposed holding the preview of "The Ten Commandments" in Salt Lake City in August of 1956. DeMille did it anyway. The preview was held in the old Centre Theater in Salt Lake, and among the guests were President David O. McKay and then-president of the Quorum of the Twelve Apostles Joseph Fielding Smith, both of whom told DeMille afterward that they had enjoyed the film immensely. The sneak preview of "The Ten Commandments" was a success and proved to be consistent with the enthusiastic nationwide response to the film in October of that same year.
In 1957, DeMille was invited to Brigham Young University to speak at the commencement and receive an honorary degree. It was on this occasion that DeMille famously uttered, "David O. McKay, almost thou persuadest me to be a Mormon!"
President McKay had the following to say about his friend Cecil B. DeMille:
It's not only in his ability to choose the right that I refer to him as a great man, but because of his soul, his faith in God, his confidence in his fellow man. I love him because of his nobility.
At the height of his career, seemingly, Cecil B. DeMille passed away in 1959. Nearly twenty years after DeMille's death, the DeMille estate gave DeMille's papers to the Special Collections at Brigham Young University. The Cecil B. DeMille papers include over 1,260 boxes of photographs, letters, papers and other memorabilia from DeMille's career acquired under the supervision of curator James D'Arc.
Hollywood remakes notwithstanding, Cecil B. DeMille's classic "The Ten Commandments" has stood the test of time, and he will be especially remembered for his relationships with members of the Church. You can read the full story at Deseret News.com.