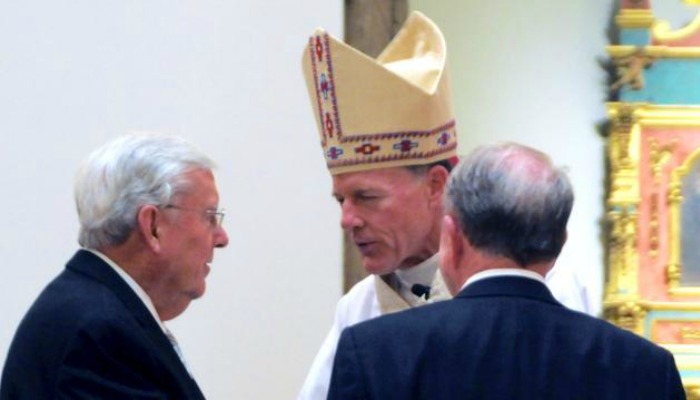 Elder M. Russell Ballard of the Quorum of the Twelve Apostles was in attendance for the installation mass held in honor of Archbishop John C. Wester in Santa Fe, New Mexico on Thursday June 4, 2015.
The mass celebrated the new appointment of Wester to archbishop, making him the 12th archbishop of the Archdiocese of Santa Fe.
Wester formed close friendships with Mormon leaders when he was the bishop of Salt Lake City, to which he was appointed in January 2007. Joining Ballard at the mass, which was held at the Cathedral Basilica of St. Francis of Assisi, was Bishop Scott B. Hayashi of the Episcopal Diocese of Utah.
Wester holds great respect and admiration for the Mormon faith. He previously stated at Utah Valley University in 2012 that Mormons and Catholics share the "mutual desire to stand shoulder-to-shoulder as we give witness to Jesus Christ as His disciples."
To read more about the installation mass, visit the Archdiocese of Santa Fe's website.