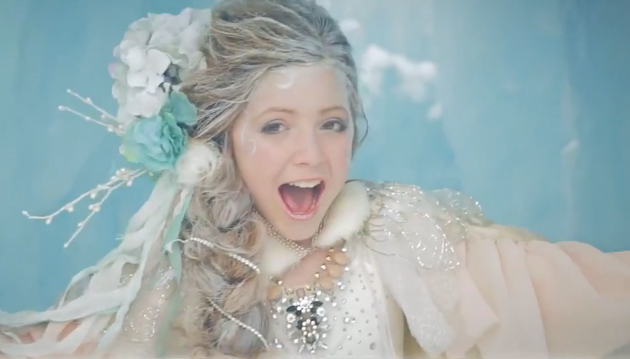 You've probably heard about Britney Spears recent hiccup. An audio track of Britney's was leaked without the auto-tune treatment and the results have caused the entire internet to question her vocal skills. These singers may not have the same 8 figure income as Britney Spears but they can sing…without auto-tune.
Tiffany Alvord
YouTube star and 22 year old Tiffany Alvord posted her first YouTube video when she was just 15 years old. Now she has over 1.9 million subscribers and 380 Million views on YouTube. She just released her 3rd album, "LEGACY".
Amy Whitcomb
Amy is a BYU graduate and has been seen on NBC's, "The Sing-Off" in 2012 and also on "The Voice" in 2013.
Brooke White
An Arizona native, Brooke started singing when she was 15 and landed a lead role in the musical, "Meet Me in St. Louis." She was also a top 5  finalist on the seventh season of American Idol.
Patrice Tipoki
Patrice is a graduate from the Western Australia of Performing Arts Musical Theatre and has been seen in a number of  musical theatre productions including, The Lion King as Nala and Wicked, playing the role of Elphaba.  
Lexi Walker
This 11 year old from Sandy, Utah has caught the attention of millions through her performances at a Real Salt Lake soccer game, the "We Are Hope" concert at the Conference Center in Salt Lake City, and her video earlier this year with Alex Boye singing Frozen.
Ryan Innes
Ryan is a BYU graduate and recently found widespread acclaim for his performance on "The Voice" in 2013.
April Meservy
April is originally from Reno, Nevada. Her talent for songwriting and performing has given her the opportunity to travel around the world to perform and also sing in Salt Lake City's Olympic Square during the 2002 Winter Olympics.
Violet Helm
Violet (Brandi Wells Richardson) is an upcoming artist from North Carolina who will be releasing her first album this summer.
Dallyn Bayles
Dallyn has a successful career in the performing arts, among many others he has performed in The Phantom of the Opera and Les Miserables. Bayles was also recently a featured soloist with the Utah Symphony and Mormon Tabernacle Choir.
Gardiner Sisters
These 3 sisters from Hawaii hope to, "uplift, inspire, and entertain worldwide audiences and highlight the joy and the good in the changing world around us."