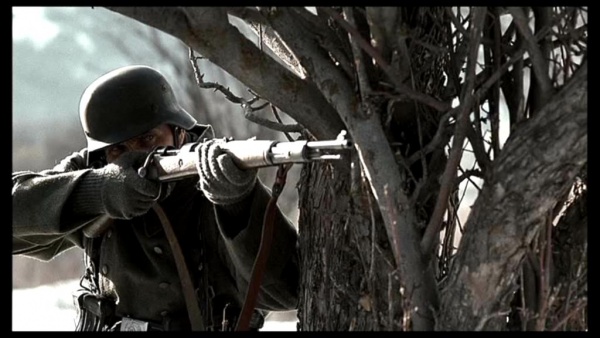 Taking on a whole new storyline, Saints and Soldiers: The Void, follows Jesse Owens—a black private for the allies—into battle. Owen, who is played by K. Danor Gerald, is forced to deal with numerous challenges, including gaining respect from a mostly white crew that has difficulty relying on a black tank driver. Mormons, and fans of The Mormon Tabernacle Choir or Studio C, will be especially excited to hear that casted in the movie are Alex Boye and Matt Meese.
Boye—who recently retired from the Mormon Tabernacle Choir— got the acting gig through his connection with an old friend. While serving a mission in London for The Church of Jesus Christ of Latter-day Saints, Boye had the opportunity to work with Ryan Little—now the director of the film. Since their missions, the two have dreamed of working together. In an interview with LDS Living, Little explains that he recognizes that most people only know Boye for his impeccable singing voice and role in America's Choir but, Boye has so much more talent than just singing.
"Of course Alex's fans know him as an impressive singer, but 'Saints and Soldiers: The Void,' was the perfect fit to showcase his acting abilities. He will impress you."
In addition to Boye's role in this new film, Studio C's Matt Meese will also tackle an acting role, as he takes on the identity of Private Danny Barlow. With a background in comedy, this serious role is somewhat of a gear shift for Meese. However, as film producer Adam Abel told LDS Living, Meese performs well in the serious role of Private Barlow and will surprise viewers with his versatility.
"We are big fans of Matt and his work on Studio C and are excited for his fans to see him in a more dramatic role. Matt was fantastic to work with. He brought a sense of humor to his character."
Saints and Soldiers: The Void, is set for release on August 15 of this year.