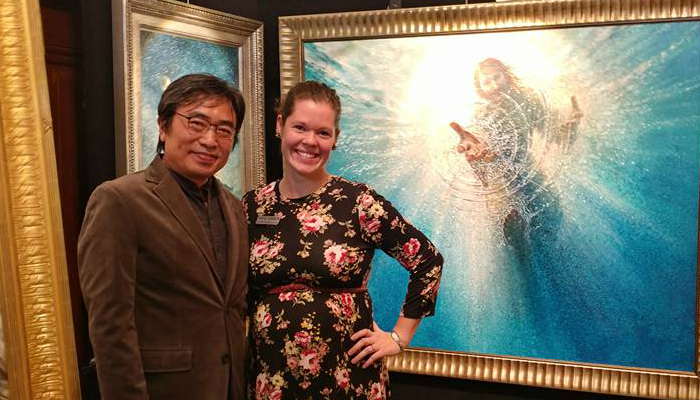 The Inspirational Art Association is currently holding its 8th Annual Christmas Art Showcase at the Joseph Smith Memorial Building in downtown Salt Lake City. The purpose and mission of the association is to "foster the creation and promotion of inspirational art." Members of the association seek to produce artistic works that "honor the Master Creator by setting a standard of excellence and by uplifting each other and those we serve through our art."
During the invitation-only Private Artist's Reception of the Christmas Showcase, held on November 29, guests were not only able to view artwork, but they were also able to mingle with the artists themselves. Our visit with some of the artists highlighted the varied paths and experiences that inspired each of them to refine their craft and dedicate their work to uplifting and inspiring others.
Annette Everett
Some artists, like Annette Everett of St. George, knew they wanted to pursue artistic careers from an early age. Everett drew and painted throughout her childhood and went on to study art at Brigham Young University, University of Utah, and the Art Academy of Cincinnati. Though Everett spent the better part of her career painting, for the last ten years she has turned to sculpture. When asked what inspired her sudden change of focus, she said that she "couldn't say what [she] wanted to with paint," and found sculpture to be a more effective medium for expressing herself.
Everett's pieces at the showcase revolved around themes of womanhood and motherhood. One of her favorite pieces, "Rest and Be Thankful," depicts a seated mother, knees drawn close and a sleeping child draped over her shoulder. Everett recently learned of a couple who took comfort in her piece after the passing of their child, and she is grateful for the opportunity to create art that "touches people and evokes an emotional response."
Mark Pugh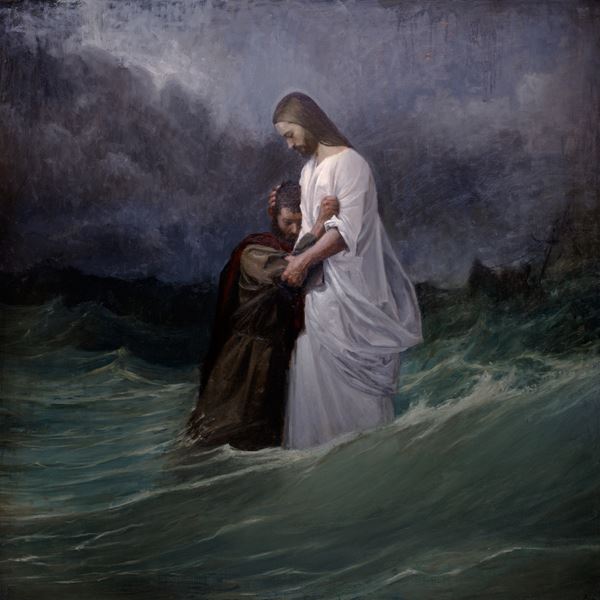 Other artists' journeys took wide detours before leading them to the showcase. Mark Pugh, who hails from Pleasant Grove, comes from an artistic family, where children and parents gathered to create art together. He says that he "can't remember a time when I didn't want to be an artist," but he worked in sales before feeling prompted to paint full time about six years ago.
Pugh enjoys including his family members in the creative process and uses his children and wife as frequent models for his pieces. When asked what motivated him to leave his former career behind to pursue art, Pugh said, "I don't think I would have been happy doing anything else." He knew that God had blessed him with a talent and felt a responsibility to share it with others.
Katie Garner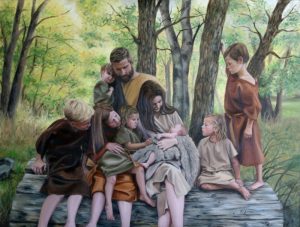 Katie Garner, a mother of five from Spanish Fork, Utah, enrolled in college as an art major, but decided to start her family and did not finish her degree. A few years ago, she received a strong prompting to begin painting again, which was somewhat of a surprise to her. However, she followed the inspiration and has consequently produced several paintings and murals, as well as assisted artist Linda Curley Christensen in painting a mural for an LDS temple.
Like Mark Pugh, Garner has used her family (specifically her children) as models for some of her paintings. Many of Garner's themes revolve around motherhood, children and families. She believes "art is a language which has the ability to speak directly to our hearts."
Scott Sumner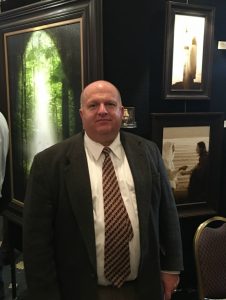 Scott Sumner, from Weber County, was the only photographer featured at the showcase. He enjoyed illustration and airbrushing in his youth, but became fascinated with photography after the advancement of digital media. He has worked full time as a portrait photographer for the last 15 years.
Sumner's photographic art can be seen at the Provo Missionary Training Center and at the Patron's Center for the Paris, France LDS Temple. He admitted that he breaks "a lot of rules" in the creative process, but this is necessary in order to take a very realistic photo and soften it to create an almost surreal vision-like image. Sumner says that he is "proof that God magnifies talents," and that witnessing others connect with his art is one of the greatest benefits he receives from his work.
Yongsung Kim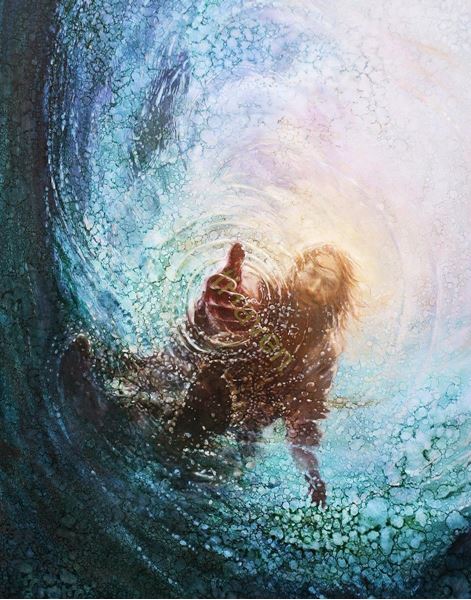 One artist came from the other side of the world to share his story at the Salt Lake exhibit. Yongsung Kim, from South Korea, began drawing when he was in middle school but was unsure about what career he should pursue as an adult. A non-LDS Christian with great faith, Kim prayed for guidance. "I felt like [God] was saying, 'You have talents that I gave you. Use that talent!' It's something Heavenly Father has given me and it's not just mine. It's to share with everyone else."
One of Kim's most striking paintings is a unique perspective on the New Testament account of Christ pulling Peter from the sea, entitled, "The Hand of God." Those attending the showcase will see the large, mural-size original of this impressive painting. It is an image that, according to Kim, has had a profound effect on people across the globe—from preventing suicide to helping people overcome drug addictions to healing families on the brink of divorce. Kim states, "I seek to work with that which is easy to understand, that which resonates with the sympathies and emotions we feel."
Kwani Povi Winder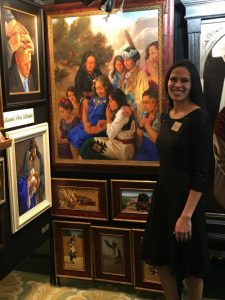 Kwani Povi Winder unites her Santa Clara Pueblo heritage with her faith in her artwork. Winder, whose first two names translate roughly to "Falling Leaves" and "Flower," has been drawing her whole life. Her passion for biology, however, led her to study neuroscience in college. She was three classes away from completing her degree when the passing of her father inspired her to seek peace through art.
As a woman of Native American heritage, Winder feels a special connection to the Book of Mormon and wanted to reproduce scenes from the book that reflect that connection. Growing up, much of the art depicting the people of the Book of Mormon that Winder saw showed people wearing stereotypical brown tunics and sashes, who did not physically resemble Natives. In one painting, which portrays the mothers, grandmothers, aunts, and sisters of the stripling warriors (see photo), Winder chose to utilize the bright colors and varied traditional dress of various native cultures, including Hispanic, Native American, and Polynesian.
Overall, the artists were united in expressing the belief that their gifts come from a Higher Power. Consequently, they have realized that following the prompting to pursue art has resulted in a greater outpouring of artistic ability—and greater opportunities to inspire and uplift others. As artist Scott Sumner observed, "I am living proof that the Lord magnifies talents."
Members of the general public have the opportunity to view these God-given talents expressed in the form of inspirational paintings, sculptures, photography, and even stained glass, at the Joseph Smith Memorial Building from November 29 to December 2 between the hours of 9am and 9pm. Admission is free. For more information, and to see a list of all artists included in the exhibit, please visit the official website of the Inspirational Art Association.