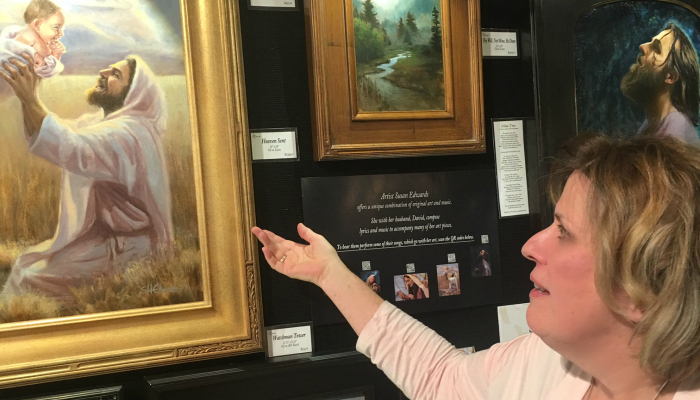 Several Latter-day Saint artists recently showcased art at the Inspirational Art Association's annual Christmas Season Art Showcase in Salt Lake City, UT. As stated on their website, the association's mission is to "foster the creation and promotion of inspirational art, to showcase wholesome content, and to extend its influence to individuals, homes and communities throughout the world.  We seek to honor the Master Creator by setting a standard of excellence and by uplifting each other and those we serve through our art."
We have highlighted a few of the artists whose work was showcased at the exhibition to find out how and why they create inspirational art.
Tom Holdman
Tom Holdman is the owner of Holdman Studios in Lehi, Utah. Through creating his own stained-glass windows as a young man, Holdman earned enough money to travel to Europe and study the art there. Holdman's work is featured in several temples around the world,  and that list continues to grow longer each year.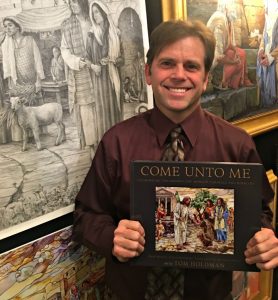 At the art showcase, he featured a beautiful sketch of the mural that will be in the Rome, Italy Temple which will be unveiled in January. He mentioned that he had a team of about 20 artists working on this sketch, and the temple will feature around 804 stained-glass windows. One of the largest stained-glass displays for the Rome, Italy Temple contain actual coins that are over 2,000 years old. Holdman Studios worked with the BYU Theology Department and received stones similar to those that were on the breastplate of the High Priest who officiated in the ancient temples of Israel.
Dan Wilson
Award-winning fine artist Dan Wilson showcased numerous beautiful portraits of Christ. Interestingly enough, all of Wilson's paintings of the Savior are based off of different models. For instance, some of the paintings portray Christ with blue eyes, while others feature him with brown eyes. The structure of his face in each one is also just a little bit different. Wilson says that his goal is to connect with as many people as possible with his paintings of Christ, and that is why his portraits contain so many variations.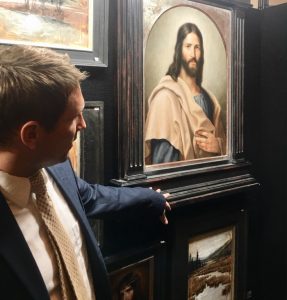 He emphasized that what really matters is that each person is able to have pictures of Christ hanging in their home.
Another interesting element is that Wilson's pieces revolve around the theme of light. He especially loves portraying how light interacts with nature. This theme is very apparent in Wilson's paintings, and it was amazing to see how, no matter the subject of the painting, light was used to highlight important elements.
Greg Sargent
Greg Sargent did not start out like a typical artist. A professional photographer for over 30 years, Sargent decided to try out photo illustration a few years ago, and since then, has created several pieces of art depicting scenes from the Savior's life.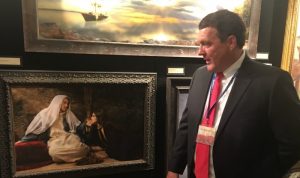 Sargent says that he takes the scriptures and uses his art to portray what really happened in the background.
Greg was new to the art show this year and his piece entitled, "Cast Your Nets," won the "IAA People's Choice Award" at the 2018 showcase.
Susan Edwards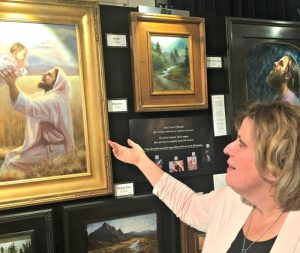 When asked what inspires her art the most, painter Susan Edwards quickly responded, "Emotions and feelings." She also observes that painting is a way for her to share the gospel. She says, "[This] is how I bear my testimony of Christ because I probably won't be going tracting." Susan has worked on various temple murals and is currently working towards a BFA in Illustration at Utah Valley University.
In the painting, "Heaven Sent," Susan comments on the different levels of meaning her paintings can take on (see photo to the right). She comments that the baby in the piece can be a child, but it can also represent us as we are cared for tenderly by the Savior.
Susan's art is extremely unique, as she and her husband David have written a song to go along with each of her paintings. In the recordings, Susan provides the vocals and her husband plays guitar.
Service Award Recipient, Kenneth Cope
Latter-day Saint musician, Kenneth Cope, was recognized for his contribution to the arts at the annual dinner. He received this award for his outstanding work in creating music centered around his belief in the gospel of Jesus Christ.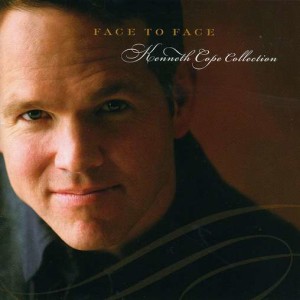 Cope was involved in music from a young age, but his first solo album (Heaven—Don't Miss It For The World) was released in 1988. Cope proudly claims that his mission is to "point people to God." Through his music, he hopes to bring hope and the light of God's love into the lives of those around him.
Though these artists may use a different medium and style to share their talents, they are similar in how they share their testimonies of Jesus Christ. These beautiful pieces of art serve to inspire and uplift members and non-members alike around the world.
---
Inspirational Art Association Official Website