David Archuleta joined motivational speaker Dan Clark and celebrity impressionist Jason Hewlett on a tour entertaining US Troops serving throughout the Middle East from July 8-25.
The three traveled throughout Afghanistan, Kuwait, Bahrain, Ethiopia and Djbouti. The Military Tribute Tour was titled, "An Evening of Music, Comedy and Motivational Theater." They performed together 18 times and featured Archuleta singing "Bridge Over Troubled Water," "Imagine" and "Crush." Above is a video of him performing "Bring Him Home" from the musical Les Misérables as a collective prayer for the troops.
Both Archuleta and Clark wrote about their experiences on their blogs. For David he was excited to go on the tour for two reasons: 1) Getting to know the men and women who were serving and 2) Getting to know what they do. Of his trip he wrote,
"A lot of times we have stereotypes for these men and women of what kind of lifestyle they come from, what matters to them, and how normal they really are. I met parents, grandparents, people my age and even younger than me everywhere. They all were far away from family and loved ones, and while they are fulfilling to their amazing duty to serve our country it still is no easy task to be away from family and loved ones in tough circumstances that are not your typical home environment. I jumped at the chance to listen to them, and simply be around them. If there was nothing else I could give to them, at least I could give them my time— there is nothing more valuable to me than that, and so I am glad that I could give even a little bit of time to be with them and get to know who they are and what they do."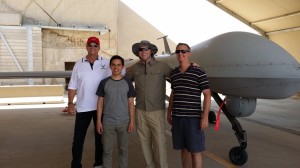 After returning to the States, Clark wrote about the success of the tour and reactions he got from the service men and women.
"In every show I had stated that if we can think, laugh and cry all in the same day, that is a heck of a day. And if we can think and laugh and cry in the same show, that is a heck of a show! In humility, I believe we delivered on this promise in every performance!
There are a lot of super stars who can sing and many headlining comedians who can make us laugh. But with all due respect, our mix of music, laughter and the inspirational spoken word brought a special spirit to each performance that allowed the service men and women and contractors in attendance to connect with us in a deeper, more long lasting, meaningful, memorable way!"