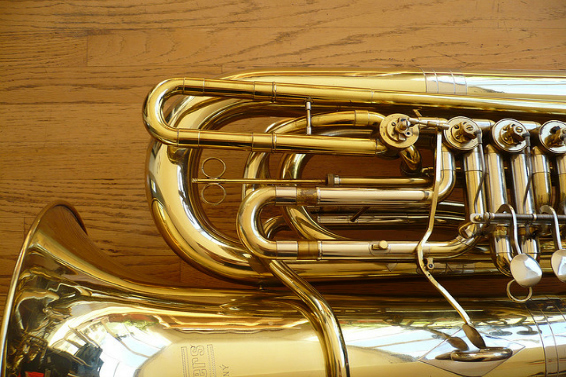 When you think Tuba, what pops into your mind? Marching band? Bad band jokes? May 2nd is the day to celebrate International Tuba Day. Unfortunately, tuba players can get a bad rap. This day is meant to celebrate the tuba as a genuine instrument that deserves some respect.
Did you know that people have written hymn music for Tuba players? It is true! As much as hymns have been arranged for Tuba players, you'll never find one in Sacrament Meeting, however. The church official handbook states:
"'Instruments with a prominent or less worshipful sound, such as most brass and percussion, are not appropriate for sacrament meeting' … 'Music that is carefully selected and properly presented can greatly enhance the spirit of worship.'" 
However, for the Orchestra at Temple Square, the famous collection of musicians who perform with The Mormon Tabernacle Choir, include tuba players. Many of the recorded and live performances with the Mormon Tabernacle Choir feature brass and percussion elements to their music, and the Choir is famous for the hymns they do.
According to this site, they sell a collection of hymns that are for tuba and piano exclusively. Songs that can be recognized to any member of The Church of Jesus Christ of Latter-day Saints, or alternatively Mormons, listed in the songbook are : "A Mighty Fortress Is our God," "Away in a Manger," "Christ the Lord Is Risen Today," "Come Ye Thankful People," and much more. "Amazing Grace" is also given as a choice that is recognizable to most Christians.
Here are a couple of videos to exemplify tuba players playing hymns.
In this video, a man performs a song, or hymn, called "Were You There?" at his church.
Another tuba player shares his rendition of "Battle Hymn of the Republic."
Personally, I am friends with a tuba player. He told me he regularly practiced, on his own, church hymns to improve his skill. He never performed them in public, but because church hymns are simple to play, they make perfect songs to practice. Just like with any instrument, as the old adage states: practice makes perfect. The tuba is no exception. Today, if you get a chance to see someone you know who plays the tuba, share with them what is so special about "Tuba Day."