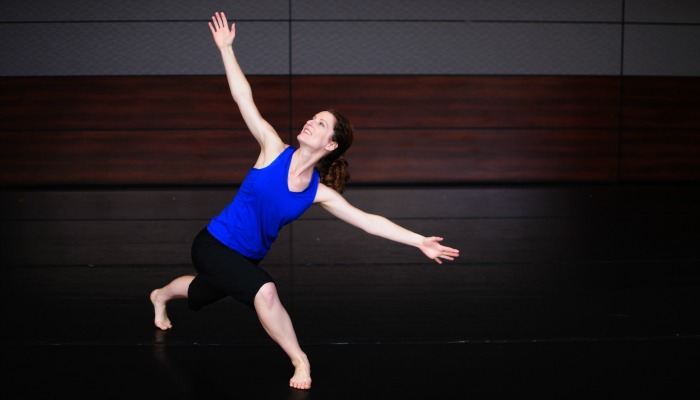 Marin Leggat Roper didn't always want to be a dancer. In fact, for a long time she only thought of it as a hobby. That all changed in a dance class Roper took as an undergraduate at BYU. Her mentor, Caroline Prohosky, told her the world needed more creators and fewer analyzers.
"For the first time I recognized how the process of dance and dance making was godly, in that it is about the creative process," said Roper.
After this realization, Roper says she ran straight to the advisement office to change her major to dance.
"I just had a really powerful impression that [dance] was the life's work I wanted to pursue," said Roper.
Since then, dance has taken Marin across the world. She's choreographed numbers with other dancers in India and learned different techniques from artists in New York. The collaborative nature of dance has given her a deeper insight into what it means that all of us are children of a loving Heavenly Father.
"This knowledge, this belief that we are all connected and we are all part of the same family has me really wanting to use dance as a way to understand people who are different than I am," said Roper. "For me, dance is a way that I can get into another person's skin."
This has allowed Roper to realize that not all of God's children feel and communicate with the Spirit in the same way. This idea first became apparent to Roper on a trip to Cambodia. As she prepared to watch a performance of an ancient, sacred temple dance she expected to have a strong spiritual experience during the performance.
But after the dancers performed, she realized the number didn't resonate with her at all. She didn't feel the spirit, she wasn't moved, she received no illumination — she felt nothing. The lack of a spiritual experience during something that was so clearly meant to be spiritual confused Roper.
Yet, despite Roper's lack of feelings after the performance, she said it was obvious the number had been a really significant experience for the dancers.
"Ever since then, I recognize that possibly the Spirit is felt and interpreted differently from body to body," said Roper.
Instead of being confused or afraid of experiences or opinions that are different than hers, Roper says dance has taught her to see how others' experiences can open up windows for her to the divine.
"It's a privilege to be able to work with people that believe differently than we do," said Roper. "It expands our spirituality it deepens our connection to the spirit."
Roper remembers one such experience where another choreographer's use of breathing taught her a new way to communicate with the Holy Ghost. Unlike Roper — who uses deep breaths in her dancing as a way to invite the Spirit into the work — this woman used very shallow breaths.
Instead of judging the woman's breathing techniques and assuming she couldn't be connecting to the Spirit, Roper was able to discover a new, unique way in which he could feel the presence of the Holy Ghost.
"I experienced the Spirit in a different way, a new way, and I think that only deepens and rounds out this full experience of spiritual connection," said Roper.
Dance has also allowed Roper to have a more open mind in general when it comes to dealing with the differences that arise across the human family. From her point of view, there is no reason to be fearful of each other's differences — a lesson everyone can apply to their lives regardless of whether they dance or not.  
"I don't feel like it's me versus the world. I don't believe that it is," said Roper. "I think there is a community of good, righteous, loving, charitable people and I don't care what religion they are, I want to work with them. I want to learn from them and I want to dance with them."