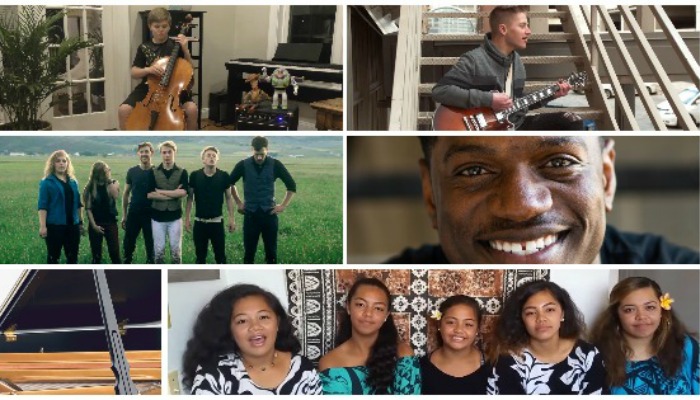 How many Latter-day Saint musicians are there? Make your guess and hold on to it. You might be surprised that LatterdaySaintMusicians.com has bios for over 350 Latter-day Saint musicians, and more talent shows up every day.
Are you looking for a website where you can learn about some of your favorite Latter-day Saint music artists and many more you haven't yet heard of, watch some of their videos, or even submit a cover song yourself? Latter-day Saint Musicians is the website that you have been looking for!
With the first article being published on the website on 26 March 2015, MormonMusic.org became a household name. Ranked #25 out of 100 top LDS websites and blogs by Feedspot.com, it is an invaluable resource for people wanting to stay in the know about the LDS music scene. Now, according to the counsel from the prophet, the site has become LatterdaySaintMusicians.com.
Rave Reviews from Musicians and Their Fans
Kate Myrup, a visitor to the website from Lexington, Kentucky, wrote, "It [Latter-day Saint Musicians] is a great way to find uplifting music in a variety of genres quickly, without having to sift through all the junk of our day."
A visitor to the website will be pleased to find top quality, informative articles. Alf Bridge from the UK commented on the quality of a review written about LDS music artist Jennifer Thomas' "A Beautiful Storm," He wrote, "Excellent review, relax, close your eyes, listen to the audio and the writer paints a wonderful picture of the video. This is what all good writers do, bring print to life. I endorse his view on the song and video."
Dixie Denney also commented on the review. She said, "Wonderfully accurate review! Thank you for putting lovely words to the moments that move us, but that we could never express ourselves."  
Keith Lionel Brown is the lead writer and manager of the Latter-day Saint Musicians website. He also maintains all the associated social media channels. Under his guidance, Latter-day Saint Musicians has become a trusted resource for information about the Latter-day Saint music scene.
World-renown Latter-day Saint pianist and composer, Paul Cardall, recently had this to say about Keith, "Keith Lionel Brown is constantly promoting recording artists associated with The Church of Jesus Christ of Latter-day Saints. . . .Thanks, Keith for your work compiling the most accurate list and latest news of musicians who are LDS."
Featured articles about Latter-day Saint Musicians have appeared at ldsmag.com, mormonlifehacker.com, and lds365.com websites.
Tooting a Few More Horns
Besides regular posts, Latter-day Saint Musicians also publishes bio pages about seasoned, as well as up-and-coming LDS music artists. Some of our featured music artists have also graciously given us permission to offer the MP3 files of their music as free downloads. And, people are invited to submit their original or cover songs, with the understanding that the songs must be 100% family friendly.
Latter-day Saint Musicians also has a rather sizeable social media presence and can be found on Facebook, Twitter, Instagram, YouTube, Pinterest, and Spotify.
As of 17 June 2019, the Latter-day Saint Musicians Facebook page has 7,411 "Likes" and 7,432 followers. The Facebook audience tends to respond extremely well to music videos about causes that music artists are passionate about.
They also immensely enjoy music videos by LDS youth such as Claire Ryann Crosby, Micah Harmon, Blake Walker, or the Rise Up Children's Choir. And, music videos like Alejandro Melecio or Izabela Geambasu singing in their native languages add an international flavor. The page is kept fresh with an average of three new music video posts each day.
The Latter-day Saints Musicians Facebook page also has an accompanying Facebook group called Symphony of Voices to help keep our audience up to date on all the current happenings on the LDS music scene.
The Latter-day Saint Musicians Twitter page mirrors the posts on the Latter-day Saint Musicians Facebook page, and as of 17 June 2019, the page has 1,142 followers.
Posts from the Latter-day Saint Musicians website are also shared on Instagram, which has 465 followers to date.
The Latter-day Saint Musicians YouTube channel was started on 17 May 2018. The purpose of the channel is to have a place where people can easily find music video playlist of their favorite LDS music artists. Visitors to the channel will also find a playlist of other recommended music artists, and a playlist of music videos by Peter Hollens who has collaborated with several Latter-day Saint music artists in the past.
The Latter-day Saint Musicians Pinterest channel garners 15.2k monthly views and consists of various boards, including LDS Musician Artists Bios, LDS Musicians Artists Videos, LDS Musicians Articles, and The Story Behind the Music.
The purpose of the Mormon Music Spotify channel is to share playlists of the LDS music artists featured on the Latter-day Saint Musicians website.
You can help increase our audience by visiting and sharing on all these social media platforms.
The Latter-day Saint Musicians Mission Statement reads as follows:
"Our mission is to share the light that is within us by sending positive, uplifting messages to the peoples of the world to give them hope and encouragement. We will accomplish our mission by spreading the message of the Gospel of Jesus Christ, which is the "Good News," by using music. We believe that music is the universal language and that the healing balm that it provides to the souls of men is incomparable to any other source. We further believe that as lives are touched by the power of good, wholesome music, those same lives can be changed for the better."
Visit the LatterdaySaintMusicians website and tell us what you think in the comments below.