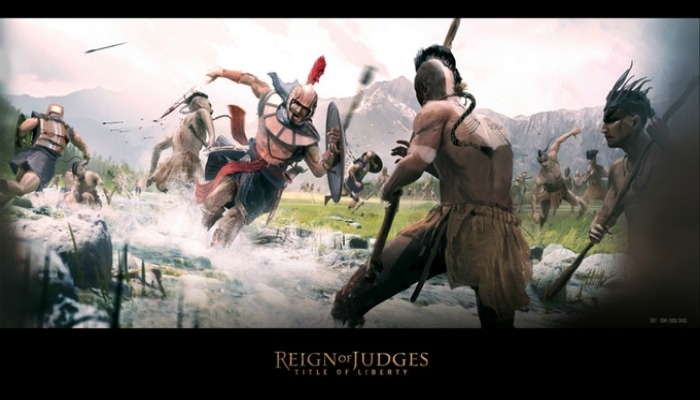 Many people who read the Book of Mormon as scripture complain about all the chapters on war. It seems like every few decades, the River Sidon washed thousands of dead soldiers into the sea. But these dramatic wars have given us some of our greatest heroes, both for their bravery and their unwavering faith.
The LDS Church, now done with their marvelous series of videos on the New Testament, have promised to produce a new series of videos on the Book of Mormon, but I can guarantee they will be nothing like what Darin Southam is planning.
Southam is an actor, director, writer, and producer with plenty of experience in front of and behind the camera. He played Ephraim Hanks in Ephraim's Rescue.  He was Jesus in 3 Covenant Communications pictures, and he just finished filming Carthage for Covenant, playing the lead as Joseph Smith. He has appeared in 28 films as an actor. He has also written and directed over 30 commercials for companies such as Adobe and Harley Davidson.
Southam is teaming up with FBFX Studios (that made Wonder Woman's armor, Achilles' armor in Troy, etc.) to make Captain Moroni's armor (finally, some realistic costuming). He also has a VFX studio waiting to assist him whose credits include Avatar, Man of Steel, and Pirates of the Caribbean. The final product will be the feature film, period-action epic, Reign of Judges: Title of Liberty.
Southam's group is seeking crowd-funding for a concept short that will lead to Hollywood investment in the feature film, with full special effects, portraying Moroni's battlefield. The amount raised in the original Kickstarter campaign will determine the quality of the concept short.
Southam, himself a Mormon, says the film isn't about promoting his faith but about an action-packed rivalry meant to inspire a worldwide Spirit of Freedom.
"This film is a passionate ensign for freedom and liberty— full
of love, war, and triumph. Our Kickstarter is all or nothing— it's a clarion call to people
everywhere who want this inspiring story portrayed worldwide on the big screen."
If this sounds as exciting to you as it does to me, follow these links to learn more and possibly contribute. The Kickstarter campaign ends soon.