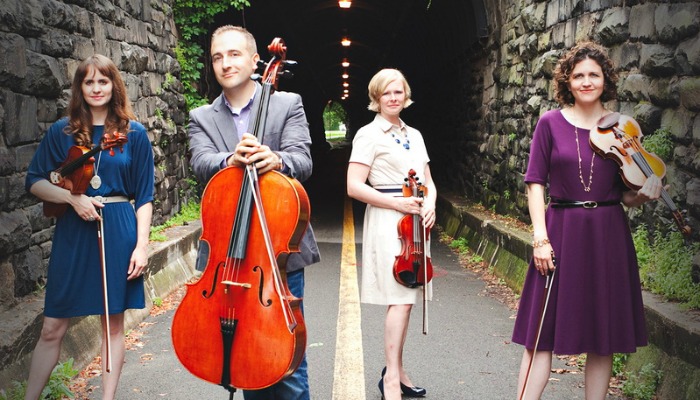 Capitol String Quartet has recently released their first studio album, which features many Primary songs from The Church of Jesus Christ of Latter-day Saints.
The album, "Walk Beside Me," is complete with 12 arrangements of songs that many individuals in Latter-day Saint homes grew up listening to. Justin Lewis, Merrill Jenson, Richard Tolbert, Daniel Omer, Regan Brough and Michael Vance arranged the hymns, and Tyler Castleton produced the album.
All of the members of the quartet are from military families stationed in Washington, D.C. On their website, they state that their goal as a group is to "make the historic and celebrated string quartet genre more accessible to today's families" and to "teach kids the lifelong benefits of listening to uplifting music."
The musicians have taken a different approach to the beloved primary songs, making the tunes new and exciting for listeners. For example, LDSmag.com describes the quartet's version of "Popcorn Popping" as opening with Beethoven's String Quartet Opus 59 before developing into the song. Also, "Give Said the Little Stream" features running sixteenth notes, which gives the feeling of listening to a running stream.
The popular primary tunes featured on "Walk Beside Me" include:
Popcorn Popping
We'll Bring the World His Truth (Army of Helaman)
I Feel My Savior's Love
I Hope They Call Me on a Mission
I Love to See the Temple
"Give," Said the Little Stream
Love One Another
Variations on Saturday
I'm Trying to Be Like Jesus
Book of Mormon Stories
I Am a Child of God
The Still Small Voice
Janice Kapp Perry gives her praise for the album and the Capitol String Quartet, saying,
This is a different and beautiful iteration of some Primary songs without words, but as they play, the words definitely pass through our minds.
Capitol String Quartet has already released music videos for "I Hope They Call Me On a Mission" and "Give Said the Little Stream," both of which are posted below.
"Walk Beside Me" can be purchased at Deseret Book ($13.98), Amazon ($12.69), iTunes ($9.99), and at LDS Bookstore ($13.95). To listen to song samples off the album, visit capitolstringquartet.com.