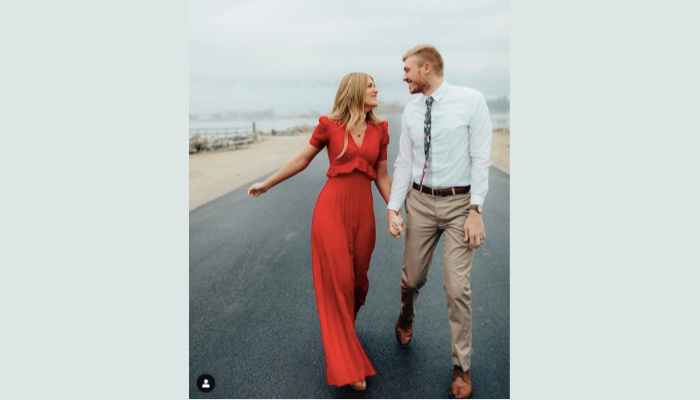 Johanna Jones is back as one of American Idol's top competitors and we are so happy about it we could cry, or cheer, or both!
Jones, a BYU student and member of The Church of Jesus Christ of Latter-Day Saints, first auditioned in American Idol's 2016 Farewell Season. Jones made it to Hollywood but was eliminated after the group rounds. Post-elimination, Jones promised her Instagram followers that they wouldn't see the last of her and that although she didn't get a lot of screentime, she was hopeful about her career moving forward.
Johanna's hope shined bright as she entered the audition floor again this last week to sing Sam Smith's "I'm Not the Only One" and then again last night to sing Chris Isaak's "Wicked Love." Both performances left judges Katy Perry, Luke Brian, and Lionel Richie awe-struck, "in love" and in tears.
What we didn't know (Johanna included!) is that her boyfriend, Matt Zavoral, would take 6 college exams and drive 11 hours to surprise Johanna on stage with a marriage proposal!
"I couldn't wait another day," said Zavoral with the ring still hidden behind his back, but his love brightly gleaming. It's no wonder Katy Perry fell to the floor wailing! Johanna's performance alone was heart-melting, but when Matt entered the stage, our romantic hearts (and maybe Johanna's, too) failed completely.
"Johanna, you're the love of my life. Will you marry me?" With a resounding "yes!" the two happily embraced, and we sobbed alongside Katy.
. @JohannaLynJones and Matt, that was such a beautiful moment, but it may have been the ugliest cry of my life #AmericanIdol pic.twitter.com/FGdvFDJ4Sr

— KATY PERRY (@katyperry) March 26, 2019
You can watch last night's performance and proposal here:
In this LDSLiving article, Matt Zavoral shares the backstory of the proposal.
The Whole American Idol Package
But Jones won't be famous just for this surprise engagement. As a former member of BYU's Jazz group and a long time lover of music, Jones' vocals are impressive, hypnotizing, and charming, just like her. At the start of her initial 2019 audition, Jones surprised the judges (and us!) by sharing her pre-performance warm-up secret of eating potato chips. (Seriously, could this girl get any cooler?).
"Are you my spirit animal?!" exclaimed judge Katy Perry who also used this "oldest trick in the book" when she began her career. As if Jones was excited enough (who wouldn't be?), Perry amped up the audition's thrill by whipping out two bags of potato chips from under the desk and spontaneously challenging Jones to a potato chip eating contest. As only a true "spirit animal" would, Johanna and Katy ripped into the bags, brimming with smiles!
Yet, another praise-worthy thing about Johanna is her confidence and skill. "In the business, we call this the whole package," said Richie in reference to Jones' vocal abilities." "Your control, your ability to sell it to us…it was mesmerizing. You've got the touch."
Emotions flowed as judge Luke Brian concluded saying "[this is] a big-time opportunity for you, being an All-American girl". A big opportunity, indeed.
And so we'll continue to cheer on Johanna (and Matt!) in both the American Idol competition and in their future together! Keep your fingers crossed that we'll have a Latter-Day Saint American Idol, folks!
"I haven't been here all week 'cause of exams, but I couldn't wait another day," Matt Zavoral said to his girlfriend and @AmericanIdol competitor Johanna Jones before popping the question on stagehttps://t.co/AcEQ6fHU1m

— The Salt Lake Tribune (@sltrib) March 26, 2019
Watch Jones' first audition of 2019 below:
UPDATED: Jones has earned a spot in the top 40.