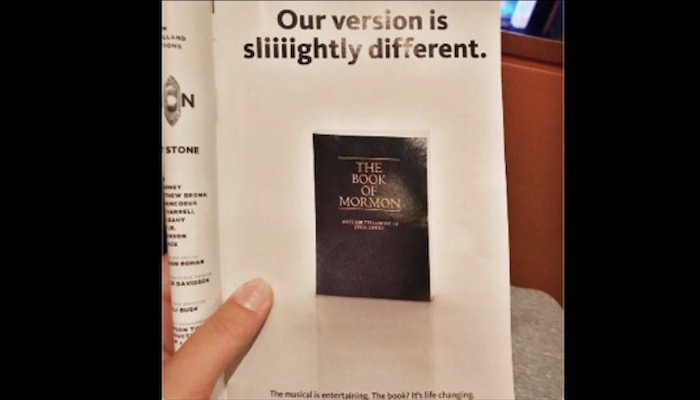 The Book of Mormon musical isn't a performance that portrays the LDS Church in the most positive light. It juxtaposes naive, deeply flawed Mormon missionaries against the brutally violent, oppressive world of Uganda. At the same time, it ignores certain realities (like the Church's humanitarian work and compassion).
However, the musical isn't meant to be a serious portrayal of the Church, but a comedy…and the Church has taken it as such. Instead of making a public statement condemning the show—not the Church's style—it has used it as an opportunity to spread the Gospel. The Church has sponsored positive promotional campaigns in cities where the Broadway show stopped on tour.
The latest such campaign was in Salt Lake City, an ad in the musical's playbill while it performs in Utah. This clever response, along with a spunky sense of humor, has earned The Church accolades far outside the state:
Image courtesy of Nish Weiseth / Twitter

"The Utah-based Church of Jesus Christ of Latter-day Saints decided to have some fun with the opening of the irreverent "Book of Mormon" musical in Salt Lake City this week."
Huff Post goes on to point out that Mormons, on the whole, refuse to be offended by the musical that they "could rightfully find offensive." While members of other faiths have spoken out in defense of the Church, offended that a sacred text would be used so disrespectfully, the Church has chosen to use it for good.