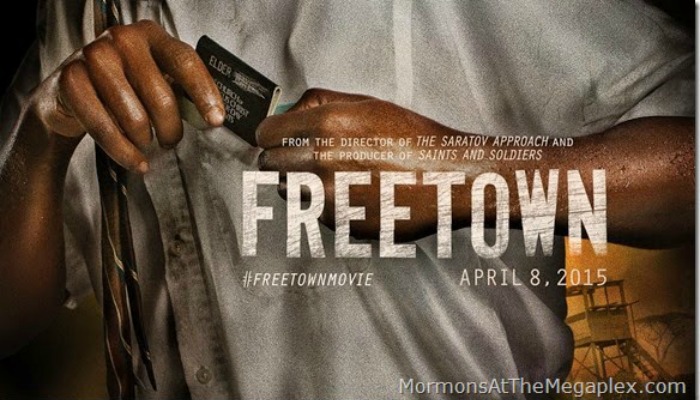 Republished From:

This article has been shared here by permission of the author. The original article can be found at
MormonsAtTheMegaplex.com
By Grady
(Grade B)
Living and having served my mission in the United States, it can be tempting to see missionaries as just 18 year old boys in a shirt and tie. Freetown reminds us that these "boys" are servants of God and where they go, miracles follow and faith increases.
Caught in the middle of a brutal civil war, six Liberian missionaries in Monrovia flee the widespread violence in their native country. Their destination: Freetown, Sierra Leone. With the help of local church member Phillip Abubakar (Henry Adofo), the missionaries make the difficult journey, only to have their troubles compounded by a rebel fighter bent on killing one of their own. Based on incredible true events, Freetown is a thrilling and inspiring story of hope and survival.
Freetown's missionaries are easy to love for two reasons. First is that the actors portraying them do an excellent job making us believe that they love the people and love teaching them. The second reason is that we can see that the people they serve love them. Some of the most moving scenes come from the members sharing how the missionaries have changed their lives and will do whatever it takes to keep them safe. These moments will move many in the audience to tears, but some other scene do fall flat. Some of the scenes seem like they were poorly improvised, is if the director said, 'The car just broke down, now act!' The dialogue is clunky and awkward in these parts.
The film does an excellent job of making us feel the tension that exists as the missionaries are often confronted by rebels on the streets and at check points on their travels. Brother Abubakar serves as the audience surrogate as we marvel in the faith these missionaries have. Whenever they face an obstacle and we begin to feel like all is lost, the missionaries always respond with a smile, "it will be okay, have faith Brother Abubakar." As we see miracle after miracle the love that Heavenly Father has for his missionaries becomes more and more evident.
Seeing Freetown will help you find an even deeper love for missionaries and gain more respect for their divine responsibility. Likewise if you are getting ready to serve a mission, seeing Freetown will cause you to take your call more seriously as you experience the love members of the church have for the Lord's missionaries. You will want to do all you can to be deserving of that love.
Content Overview: Freetown is rated PG-13 for some thematic scenes involving violence. As the rebels come through town they kill anyone who belongs to (or they think belongs to) the tribe of the opposition. These deaths are off screen, but it is very jarring to see such hatred personified. Thought it might not be a missionary film for young children, young teens will have a powerful experience watching Freetown.
Messages to Discuss: All the risk the missionaries go through is so that they can be able to teach the gospel freely. Even along their journey they take every opportunity they can to share the message of the restoration of Christ's Church. We should seek opportunities to share the gospel and not fear. We should not fear in the face of scrutiny, of ridicule, or even of death. (Romans 1:16, Esther 4:16)