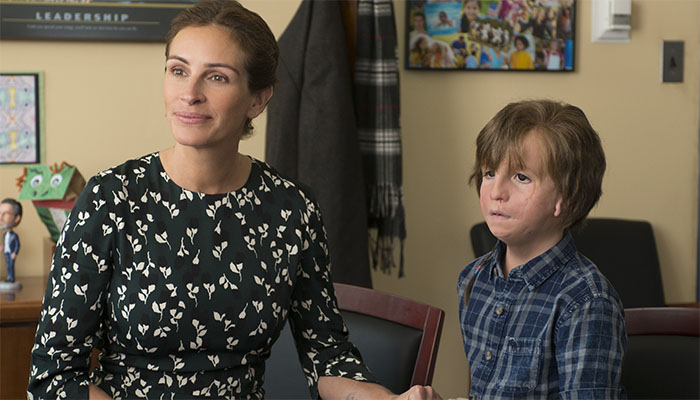 Movie Title: Wonder
Grade: PG
Movie Review Mom Rating: A
In a Nutshell: Based on the New York Times bestseller by R.J. Palacio, Wonder features a talented cast in an uplifting, heartwarming, and inspiring movie that teaches us all to be a little more kind with one another.
As Mr. Brown's precept on the chalkboard says, "When given a choice between being right and being kind, choose kind."
The prosthetics and make-up used on Jacob Tremblay are truly a Wonder. There is enough humor to balance out the emotional moments. Speaking of emotional moments, you WILL cry. A few times. Bring tissue.
The kids who sat in the audience with me loved it. It's a Wonder when both parents and kids can find a movie that they equally like.
Uplifting theme:
Who do you aspire to be?" – Mr. Brown (Daveed Diggs)
"You can't blend in if you were born to stand out." – Via ( the lovely Izabela Vidovic)
"Everyone deserves a standing ovation at least once in their lives." – Auggie
"Your deeds are your monuments." – Mr. Brown's Precept on the classroom wall. Summer explains that it means, "The things that we do are things that matter the most."
"Oh Earth, you're too wonderful for anyone to realize you." – Via (while acting in the school play of Our Town.)
Tips for parents:
Bullying
Fist fight among boys
SPOILER: A sad death
Julia Roberts shows her kids a floppy disc and they have no idea what it is. Ha ha
Two kids cheat during a test.
The middle school does the play "Our Town." Your kids may not know anything about it. You should watch the old movie!
A kid gets angry and throws something.
The disease that Auggie has is called mandibulofactuallyacial dystosis, also known as "Treacher Collins syndrome." Jacob Tremblay visited children who actually have it to prepare for his role as Auggie.
Things I liked:
Jacob Tremblay does an incredible job as August Pullman. He has developed quite an impressive filmography for such a young kid. He starred in the Room, The Book of Henry, Shut In, Before I Wake [Blu-ray], and even The Smurfs 2. His real sister, Emma, is also in the movie and plays
I liked how the story is told through various people's perspective. It's not just a movie about Auggie, but all of the characters who have their own challenges and growth.
Some of the kids are really adorable, especially Jacob Tremblay (Auggie), Millie Davis (Summer), and Noah Jupe (who played Matt Damon's kid in Suburbicon.)
I got a kick out of all the Star Wars references and the audience laughed every time Chewbaca showed up.
Someone makes a very kind sacrifice that truly impressed me. I know, I know…it's fiction.
This movie hit theaters the same day as the JUSTICE LEAGUE. You'll see a REAL Wonder Woman in the role of Auggie's mom, played by the wonderful Julia Roberts. SPOILER: She looks very comely in the beginning of the movie, but by the end, she appears more hip in an intentional "don't judge people's appearances kind of way" and a subtle evidence of how she was completely dedicated to Auggie when she homeschooled him and finally found herself by the end of the movie.
After starring in Broadway's hit Hamilton (Original Broadway Cast Recording) [Clean], the talented Daveed Diggs has been busy working on films lately and has a small, but important role in this one.
Things I didn't like:
Yeah, some of the teary moments are manipulative, but they still worked on me.
Cliché standing ovation scenes that almost every middle-grade movie has lately.
The bully's parents were ridiculous. The mom seemed over-the-top. I sure hope parents like that don't actually exist.
They live in an expensive Brownstone in New York City. What exactly does Owen Wilson's character do for a living? We never learn that, but he's able to send Auggie to a private school and still have plenty of time to spend with his family. Fiction, indeed.
Funny lines:
"Have you ever thought of plastic surgery?" – Jack Will (Noah Jupe)
"Dude! This IS after plastic surgery! It takes a lot of work to look this good." – Auggie
"What evil man invented Dodgeball?" – Auggie
Interesting lines:
"Why are you sitting here?" – Auggie
"Because I want some nice friends for a change." – Summer
"Me too." – Auggie
"Good friends are worth defending." – Mr. Tushman (Mandy Patinkin)
"Not everything in the world is about you." – Via
"Real friends are hard to find." – Auggie
"Auggie can't change the way he looks. Maybe we can change the way we see." – Mr. Tushman
"We all have marks on our face. This is the map that shows us where we're going and these are the marks that show where we've been." – Isabel Pullman (I loved that sentiment, especially as I age and get more wrinkles!)