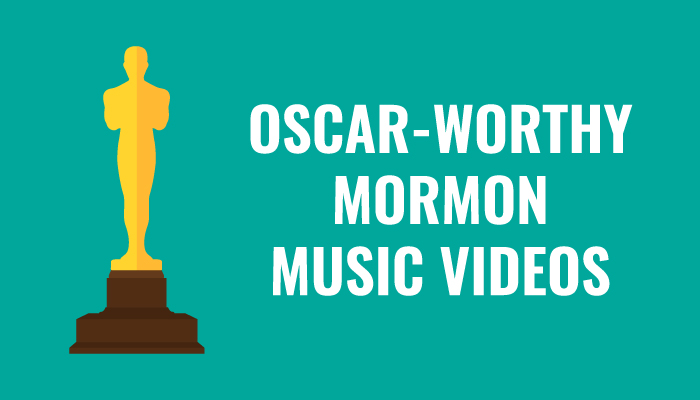 The Oscars have come and gone, but YouTube is forever. However, some of the talent found on the world's biggest website for videos deserve Oscar-winning levels of recognition.
With that in mind, we've compiled some of the best Mormon music videos, parodies, and original songs YouTube has to offer. Some of these videos are cringe-worthy, but you can't help but admire the creativity and effort involved. Truly, Latter-day Saints are a talented bunch, and where they lack in talent, they make up in enthusiasm.
Best Missionary Music Video
Of all the videos posted on YouTube by missionaries, this parody of Adele's "Hello" is the strongest in both production value and relatability for returned missionaries. The joy captured in the line "Hello from the inside!!!" can only be eclipsed by that second piece of pie. Missionaries work hard and contact every day for an opportunity like that, and this video portrays it perfectly.
Best Original Rap(s)
James The Mormon introduced a new side of Mormons to the music world. He's paired up with several notable singers, including David Archuleta, to produce amazing content. He composes raps with messages that use clean language, so no problems on that front. We're only linking to his most recent video, but check out all of the videos on his channel if you want to be blown away.
Best Parody Lyrics
This video is a personal favorite of mine, mainly because of the scene where they are chased by small dogs. But beyond personal preference. These lyrics composed by Isaac Parkinson fit amazingly well with Carly Rae's hit single "Call Me Maybe." Though similar to another video on this list in that it details the constant struggle of being a missionary, this video brings it all together with its clever lyrics and the grand finale's dance number.
Most Realistic Portrayal of Utah Life (Just Kidding!)
BYU Divine Comedy is dedicated to making you laugh, and the first time I saw this video I spit water all over my keyboard. Life in Provo, Utah, can definitely be ridiculous, especially for college students attending BYU. Add in a camera, and you have this amazingly funny portrait of what life is like for the young, single, and female living in Happy Valley. You might recognize the younger versions of some other popular YouTubers as well.
Best Group Performance
This video went viral after a Utah ward Young Men's group decided their yearly Standard's Night could use some One Direction. What emerged was this tribute to the Young Women of their ward, applauding them for upholding their standards in the face of worldly pressure. These young men threw caution to the win to deliver a stand up performance, and their group dance moves are the highlight.
Best Original Song
With the missionary service age change came a rush of sisters who wanted to serve missions. No doubt they left behind some heart-sick boys. Too bad boys! It's your turn to wait for your one and only to get off their mission. The band Alone N' Single captures that moment perfectly.
Best Instrumental Performance
We step away from the vocal stylings in favor of Lindsey Stirling's charged dancing and violin combo. Playing the violin is difficult enough when you are standing still, but Stirling puts her own style into each song she covers and composes. Her videos are electric, creative, and all around fun. She definitely deserves an Oscar.
Best Disney Cover
Disney music is universally loved and universally performed on YouTube. But not many musicians will perform with dangerous wild animals to get the feel they are going for. Enter Alex Boye. His cover of the "Circle of Life" blows the viewer away. Yes, the lion and rhino were real. Boye goes the distance for his art and his Disney covers.
These are only a few of the videos created by Latter-day Saints that can be found and appreciated on YouTube. Do you agree with our awards? Know of any other videos that are too cool not to share? Let us know in the comments below!