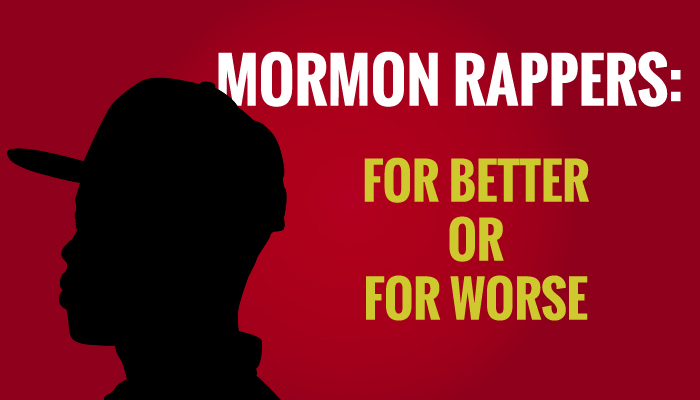 As members of The Church of Jesus Christ of Latter-day Saints, our "street cred" is usually determined by fresh-faced 18-year-old boys and long-skirted 19-year-old girls touting Books of Mormon door-to-door. However, a handful of Mormons are representing the religion in a way that would might make a G-rated Tupac proud. Here are 5 Mormon Rappers reppin' their religion with some tasty beats.
James The Mormon
James Brandt Curran, commonly known as Jamesthemormon, says his love for Hip-Hop started at 14, when he first heard rapper Ja Rule. He began writing songs, and after completing a 2-year Russian speaking mission, James began his rap career. Though the 30-year-old artist doesn't regard himself as a rapper, as demonstrated by his album "I'm Not A Rapper," which hit number 1 on the iTunes Hip-Hop/ rap chart. Jamesthemormon's most recent video for his song Mo'Some ft Jay Warren entertainingly satirizes the Mormon love for Diet coke by comparing it to flagrant alcohol use prominent in rap culture.
David Eff Peterson
"Revivalist rap" is the term David Peterson uses when describing the sound of his Hip-Hop influenced band Can't Stop Won't Stop. Peterson makes up one-half of the 2011 Provo favorite, with Davey Hawkins comprising the other 50%. In an interview with Normon.com, Peterson gave insight to the issues white, mormon rappers have to deal with — especially when it comes to being taken seriously.
"It's almost universal. I'm not sure that's specific to my religious beliefs, but with this profession, people really feel qualified to ask for proof. "Oh you're a rapper huh? That's cute. So what do you do for money?" I just have to swallow it and realize that what I do makes a lot of people happy. Not everyone gets to say that, " Normon.com David told.
Despite the nay-sayers and the haters, Can't Stop Won't Stop's tracks have millions of listens each on Spotify and YouTube.
First Discussion Rap
With nothing more than a selfie stick, an iPhone, and an ear for sick beats, a group of missionaries from the Montana Billings came together to create a rap to both enlighten and entertain. With lead rapper, Elder Finn McGrath, laying in mad spiritual rhymes and a few sister missionaries on backup vocals, the video has been viewed over 1 million times and shared almost 25,000 times.
Colby Ferrin
Currently studying psychology at Brigham Young University, Colby Ferrin gained a sliver of fame thanks to his Before And After Missionary Rap, amassing 162,152 views on YouTube. Ferrin's latest release is not innately spiritual in nature, but rather an ode to to middle class rappers everywhere. Rather than complaining about his lack of hardship, or blowing any trials he's had out of proportion, Ferrin makes light of his privileged life.
Ferrin views rap as a way to get people's attention and spread a message about the gospel he loves. In an interview with MormonHub, Ferrin stated, "I got into rap when my love for poetry and wordplay combined with my love for music. I see rap as an engaging tool I can use to present important messages in a creative way, especially to those who may not have been interested in my message otherwise."
Mormon Rap By The Walter And Hays Band
Taking it back old school for this last one. Circa 1988, "Mormon Rap" was an instant cult classic. With over 95,000 cassettes sold and plenty of airtime on the nationally syndicated Dr. Demento, The Walter And Hays Band thought there was nowhere left to go but up.
"Mormon Rap" had Walt Gregory and his band playing at Disneyland Telethons and performing shows in the Bahamas. But when their other songs failed to reach the same heights as "Mormon Rap," the band disbanded. Today, "Mormon Rap" lives on as a revered theme to be lip-synched by those of us who can't rap.
Know a Mormon rap artist we missed? Leave a comment below!