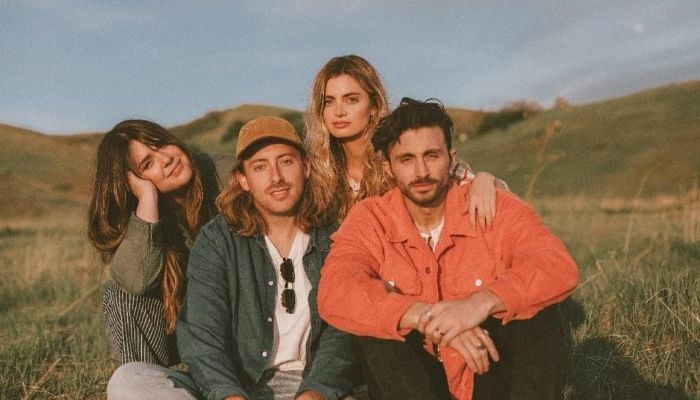 The National Parks band has performed with big names like LeAnn Rimes and Andy Grammer. Would you ever guess that they are based in Provo, Utah?
In an interview with the Daily Herald, Brady Parks said, "It has been amazing to see a fan base grow in Provo," he continues, "and I think it kind of lit a fire under us to get out there…we are really grateful for the results that we have seen so far."
As The National Parks band has grown in national popularity, they have amassed a following of about 715,000 monthly listeners on Spotify. Their song, As We Ran, has been streamed over 15 million times and counting.
Who are the National Parks?
https://www.instagram.com/p/CDRy-MQnwvR/
The National Parks consists of four members. Brady Parks, who is on vocals and guitar, served a mission and graduated from BYU in 2015. Parks later married Megan Taylor in the Provo City Center Temple in 2017.
Megan has been playing the violin since she was 4 years old and continues to play the violin for The National Parks band. Her addition is part of what makes the band sound so unique.
Sydney McFarlane is on vocals and keys. She is married to Michael McFarlane and the couple has two sons together.
Finally, the band's drummer, Cameron Brannelly, served a mission, graduated from BYU in 2019, and married his wife Courtney in November 2019.
The band only releases original music, and Brady writes most of the lyrics and music. But while the original ideas may come from his mind, the final versions of each song are products of full collaboration between all members of the band.
This folk-pop band has been compared to Mumford and Sons and The Civil Wars. They are famous for their acoustic sound that lets the raw emotions of their music shine through.
The band has released four albums since its debut in 2013. They have performed in sold-out shows in Los Angels, Washington D.C., and New York. Their albums are called Young, Until I Live, Places, and their most recent album Wildflower. 
They have performed for many charity events including Operation Underground Railroad events and The National Parks Service. They perform regularly in settings such as rooftops and backyards. But if this band has such a large following, why do they still perform in such small venues?
Related Link: 7 Christian Songs To Listen To Right Now 
Work Since COVID-19
https://www.instagram.com/p/CC6SqD9niTv/
Their laid back vibe has led many people to their music and they like to keep it that way. Another reason for the recent small shows is COVID-19. They decided to sell only 40 tickets per show and performed these mini-concerts across Utah and Idaho. The band also streamed a concert via Instagram in July.
Originally, a full-day music festival like a mini-Coachella was planned. Named Superblooom, the festival was set to be near Zion National Park but had to be canceled because of COVID-19. Here's hoping that it will be rescheduled in the future.
For the band's third album, they were aiming for more of a pop sound in their music because they wanted to reach a broader audience. With their fourth and latest album Wildflower, they took a different approach.
Related Link: The Killers Lead Singer, Brandon Flowers, Stands By LDS Faith in CBS Interview
Brady Parks admitted to the Salt Lake Tribune, "none of that matters. We just want to put out the best music." His wife Megan added, "We don't care anymore."
Because the band has been together for eight years, Sydney McFarlane says, "We've grown up. We have all grown up together, too, and we kind of know who we are."
This long-standing group of friends continues to dominate the music scene in Utah and Idaho. We only hope that as their popularity grows, they will remember their roots.
Have you ever listened to The National Parks? Share in the comments.