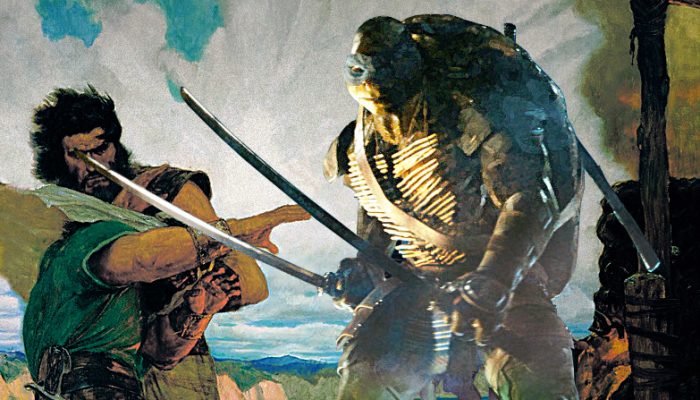 The latest trailer for Michael Bay's Teenage Ninja Mutant Turtles was released today showing a glimpse of Master Splinter and the buff crime fighting turtles. The film comes on the tails of the commercially successful TMNT from 2007 and will be sure to win over a new generation of fans.
Splinter named his sons after Renaissance artists after finding a book about them in the sewer. But what if he had found a Book of Mormon? What if he had named them after Book of Mormon characters? We have the answers here:
Leonardo — Nephi
Leo is the oldest of the turtles and is also the leader. He was made the leader because of his undaunted obedience to his father's teachings — he's not the strongest, fastest or smartest of the turtles. Because of his willingness to serve, Splinter would name him after Nephi. The parallels are uncanny! Nephi had to lead his brothers — just like Leo had to lead his brothers, a group of immature, disorganized and sometimes rebellious young men.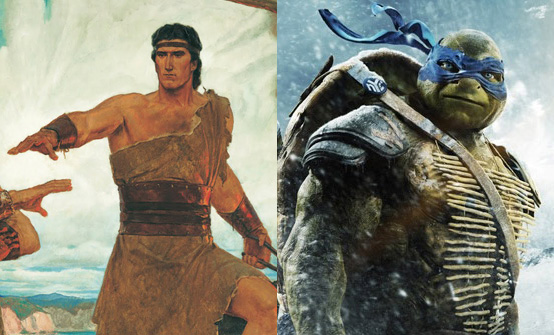 Raphael — Teancum
Raphael stands out amongst his brothers as the strongest and most brash of them all. He is a fight-first-ask-questions-later kind of guy. He is constantly getting into trouble from the others for going above the sewer lines. But because of his stealth, he wreaks havoc on his unsuspecting enemies. His boldness matches that of Teancum, who in the Book of Mormon slew a great number of high profile enemies like Morianton, Amalickiah and Ammoron.
Donatello — Mahonri Moriancumer
Donnie is "The Brains" of the team. He is known for his ability to hack into systems and is always inventing some gadget, weapon or vehicle for his brothers. It's obvious that he would be named after The Brother of Jared (Mahonri Moriancumer) for his ability to build innovative barges and his creativity in asking the Lord to make light shine out of small, clear stones.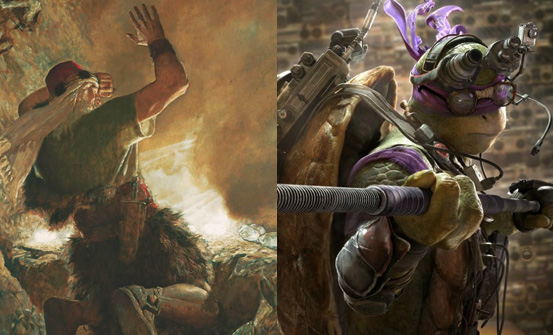 Michelangelo — Alma the Younger
Michelangelo is the youngest of the group and has some growing up to do. He is known as "The Party Dude" or "The Wild One" and is always the first at a slice of pizza. However, as the series progresses he recognizes his abilities and slowly matures to be a powerful member of the team. For his wild past and promising future, Splinter would see a lot of Alma the Younger in Mikey.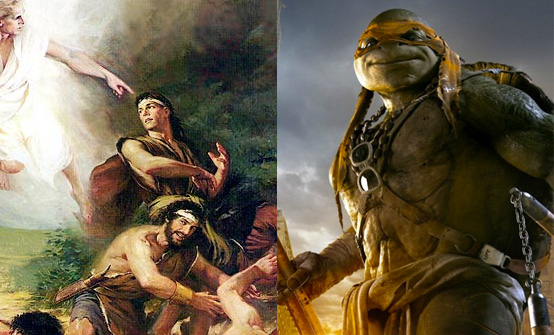 Added Bonus
Splinter — Lehi
Splinter is the wise sage who teaches the young turtles everything he knows. He isn't perfect, but understands the potential of his sons and teaches them the importance of self-control and how to make correct choices. Doesn't that sound like father Lehi in the Book of Mormon?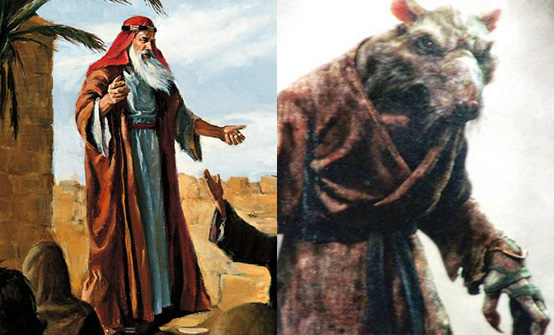 "And now that my soul might have joy in you, and that my heart might leave this world with gladness because of you, that I might not be brought down with grief and sorrow to the grave, arise from the dust, my sons, and be men, and be determined in one mind and in one heart, united in all things, that ye may not come down into captivity."(See 2 Nephi 1: 20-22)
"Help each other, draw upon one another, and always remember the power that binds you. The same is what brought me here tonight, that which I gladly return with my final words: I love you all, my sons." Teenage Mutant Ninja Turtles (1990)