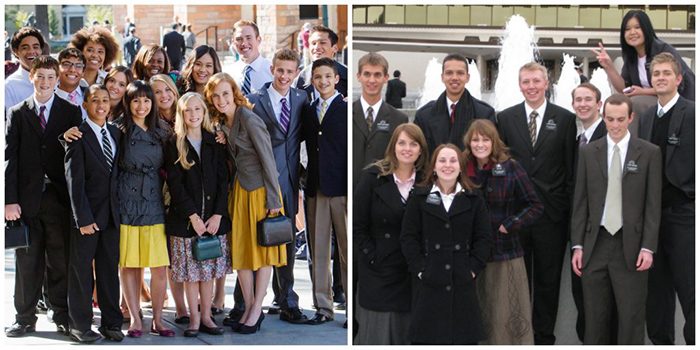 In the past, LDS.net has taken part in Transformation Tuesday with posts of temple transformations, LDS celebrity transformations, and Church leadership transformations. However, this Tuesday LDS.net has decided to take a different approach: addressing the transformation the youth of the Church, Deacons and Beehives, go through to prepare themselves to be missionaries.
Elder David A. Bednar, of the Quorum of the Twelve Apostles, spoke during General Conference in October 2005. In his talk, entitled, "Becoming a Missionary," Elder Bednar counseled those planning on a mission to start preparations now.
"You will not suddenly or magically be transformed into a prepared and obedient missionary on the day you walk through the front door of the Missionary Training Center. What you have become in the days and months and years prior to your missionary service is what you will be in the MTC. In fact, the nature of the transition through which you will pass in the MTC will be a strong indicator of your progress in becoming a missionary."
The true spirit of missionary work does not start the day one receives his or her black name-tag, nor does it end the day one is released and asked to remove that same badge. Rather, true missionary work starts long before entering the Missionary Training Center. It starts at home, with mothers and fathers centering their family around Christ. It starts at church, with leaders teaching righteous principles. It starts at school, with children standing up for their beliefs. It starts at at work, with employees living honestly. It starts at social activities, with friends setting a Christ-like example for their peers. Elder Bednar teaches that everyone is a missionary regardless of age, experience, or stage of life. No matter where members of The Church of Jesus Christ of Latter-day Saints may find themselves, they carry with them the responsibility to be a missionary every single day.
If you're not a full-time missionary with a missionary badge pinned on your coat, now is the time to paint one on your heart.
-Elder Neil L. Anderson
A significant point Elder Bednar makes here is the importance to become a missionary. He did not emphasize the literal act of going on a mission, but rather becoming a missionary. He took the liberty in phrasing his counsel in such a way due to the possibility for one to go on a mission without becoming a missionary. In order for one to truly become a missionary, one must accept the challenge to never check his or her religion at the door and to live a Christ-like life every day. Being a missionary does not mean refraining from all television shows, leaving your family, or wearing Sunday attire every day. Instead, it means increasing one's desire to share the gospel and serve God. This transformation is a gradual one which will progress little by little, through sincere and diligent effort. Being a missionary is a daily decision, a daily commitment, a daily practice. Being a missionary is a lifestyle.
When one becomes a missionary, it is not just for the two years one may be in the mission field, for the 6 years spent in Young Mens or Young Womens, or for the 18 years parents spend teaching their children. Being a missionary is a lifetime call.
Read Elder Bednar's full talk, "Becoming a Missionary," on LDS.org.
In the comments below, share your experiences with missionary preparation and any member missionary experiences you may have.