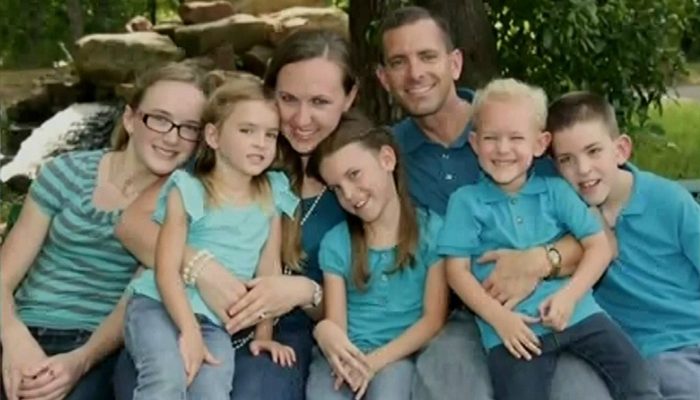 Grieving the death of six family members, Tom and Joyce Stay reached out to their long-time friends for comfort. The Stays and the Haskells, have been friends since their children were young, and even attended the same LDS ward together for many years. Their close friendship makes the news of their family's death even more painful.
The Haskell's son, Ron, is accused of killing the Stay's youngest son, daughter-in-law, and four grandchildren (ages 4-16). More than six months ago Ron barged into Stephen and Katie Stay's home in Spring Texas, demanding to know the whereabouts of his ex-wife, Katie's sister. Ron is accused of shooting all seven members of the young Stay family, execution style, after realizing that his former brother- and sister-in-law and their children would not hint at his ex-wife's whereabouts. Cassidy Stay, 15, survived the tragic shooting due to the bullet reflecting off of her hand, causing it to only graze her scalp, and then playing dead until Ron left her home.
Of her granddaughter's experience, Joyce Stay told 10tv,
She told us that she felt like angels were surrounding her. Like somebody held a hand over her mouth to keep her quiet. I hate to imagine what she heard and saw before she walked out of there.
Tom and Joyce Stay say that relying on their Latter-day Saint faith has helped them to cope. They felt that their friends, the Haskells, must also be suffering since the slaying, according to 10tv.com. During a phone interview with 10tv, Joyce Stay confirmed her feelings, saying,
We found they were sick and broken-hearted about everything. I told them, 'Your son did this, not you.' Our friends are as baffled by this whole thing as we all are.
Cassidy Stay, the lone survivor of the tragedy, is living with extended family and attending school in a Houston suburb. During the phone interview with 10tv, her grandmother stated that Cassidy is doing well and leading a normal teenage life of hanging with friends, going to dances, cheering at football games and playing her flute. The teenager was given a puppy for Christmas that is trained as a therapy dog to help Cassidy Stay with post traumatic stress.
Tom and Joyce Stay traveled to Texas for the holidays to witness Cassidy receive another special surprise—the honoring of her parents and siblings at the Fallen Warriors Memorial near Spring, TX. It is reported that Cheryl Whitfield founded the memorial to honor Texas soldiers who lost their lives in war. Whitfield felt it was fitting to also pay tribute to the young Stays, who lost their lives while trying to protect other family members.
Ron Haskell is held in the Harris County jail without bail on six capital murder charges. A trial date has not yet been set, and any mental health reports will be reviewed before deciding on whether or not to seek the death penalty.