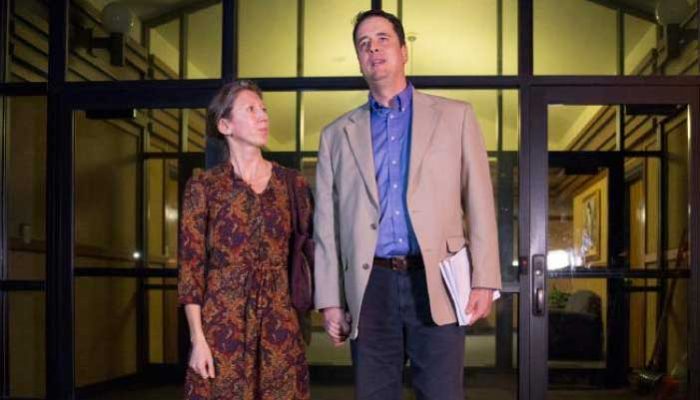 UPDATE: Click here to read the Church's response to John Dehlin's public comments.
John Dehlin, a well-known blogger, has been excommunicated from The Church of Jesus Christ of Latter-day Saints on charges of conduct that is contrary to the laws and ordinances of the Church.
Sunday evening, leaders of a north Logan, Utah, stake held a disciplinary council to discuss the continuing membership of the "Mormon Stories" podcast founder. The council ended with Dehlin's stake president, Bryan King, asking for time to pray about the verdict a while longer.
The Salt Lake Tribune reports that King wrote to Dehlin that he was not excommunicated for having doubts or questions about the LDS faith, but rather "because of your categorical statements opposing the doctrines of the church, and their wide dissemination via your Internet presence, which has led others away from the church." King continued saying that Dehlin is free to criticize the Church as he chooses, but not "as a member in good standing."
Dehlin has on occasion said that he expected excommunciation to be the result. When he was first notified in January of his disciplinary council, his local Church leaders asked him to commit to four terms. Dehlin notified his leaders that those were terms he could not subject to and posted to his website that he would not abandon his moral convictions, stating,
…I would much rather face excommunication than disavow my moral convictions. In the coming weeks, months, and years ahead, it is my intent to provide increased support to Mormons who are transitioning away from orthodoxy.
Church leaders have indicated that when an individual is excommunicated, he or she is no longer a member of the Church. This means that he or she is denied the privileges of Church membership, which includes wearing the temple garment, and paying any tithes or offerings. Although the Church still invites these individuals to attend public Church meetings, his or her participation in such meetings is limited. Dehlin's excommunication will also result in the previous consequences; however, his excommunication doesn't necessarily mean the end of his membership forever. Individuals who are excommunicated are encouraged to repent and rely on the Savior until they can qualify for baptism and become a faithful member of the Church again.
In an article published in the September 1990 edition of the Ensign, Elder M. Russell Ballard, member of the Church's Quorum of the Twelve Apostles, remarks that members can come back if they choose to do so. In his article, entitled "A Chance to Start Over: Church Disciplinary Councils and the Restoration of Blessings," Elder Ballard states that "when members need to have certain blessings withheld, the Lord's object is to teach as well as to discipline. So probation, disfellowshipment, and excommunication, when they become necessary, are ideally accompanied by eventual reinstatement and restoration of blessings."
To learn more about Church disciplinary councils and the process of repentance and reinstatement, read Elder Ballard's talk, or visit LDS.org.