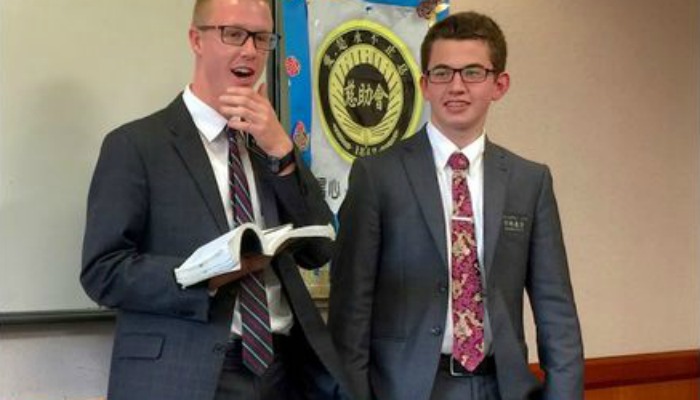 A car struck and killed a young man serving a mission in Taiwan for The Church of Jesus Christ of Latter-day Saints.
David Smith Hampton, 18, was hit by a car while riding his bike, according to KSL. The North Ogden resident was taken to a local hospital where he later died from his injuries on Tuesday.
Hampton's parents, Steve and Cyndi Hampton, released a statement, saying that they are still processing the devastating news about their son, but are grateful for his service. "We are thankful he was serving the Lord as a missionary," the family stated. "In each of his letters he expressed his pleasure to be on a mission. It was hard work, but it was a blessing for him and for us. And we know it will continue to be a blessing for us. … Our faith is strong that he has been taken home to that God who gave him life."
Hampton has a sister who is currently serving a mission for the Church in Tahiti. She has been in contact with her parents and also expressed gratitude for her brother's missionary service in the Taiwan Taichung Mission. It is not yet decided if she will return home to Utah for the funeral.
In a statement from Church spokesman, Eric Hawkins said, "Our hearts are saddened as we share the news of the death of one of our young missionaries. … Our prayers are with his family and loved ones as we join with them in mourning his death."
Deseret News reports that the family continues to remain strong during this difficult time. Hampton's parents expressed gratitude for the prayers in their behalf. They said,
We are thankful for our family who is with us and appreciate and are strengthened by their love and prayers, and the love and prayers expressed by so many others.
Hampton began his missionary service in December of 2015. At this point, there is no information regarding the funeral or when Hampton will be brought home.