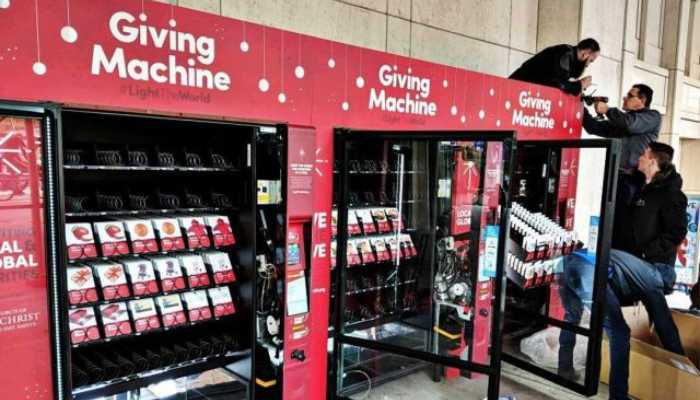 The Church of Jesus Christ of Latter-day Saints has decided to once again implement giving machines in five different locations. These giving machines present a unique opportunity to serve people around the world, and the amazing part is that 100% of the proceeds are given to charities.
Instead of putting money in a vending machine to buy yourself a candy bar or a bag of chips, you can use these giving machines to help donate to those in need. The Church website states:
"Using credit cards, people can purchase representations of items like a goat or a chicken, socks, a new pair of school shoes, an eye exam, clean water, baby supplies, first aid kits, medication, and food. After the purchase is complete, the machine vends the item into a bin at the bottom. These donations, and the money used to purchase them, are then distributed to charity partners like CARE, UNICEF, WaterAid, and Water for People."
See how these giving machines work in the video below:
These giving machines are at the following locations:
Manila, Philippines, SM Mega Mall, Epifanio de los Santos Ave, Ortigas Center: opens November 23
New York City, Manhattan New York Temple, 125 Columbus Ave: opens November 27
Salt Lake City, Utah, Joseph Smith Memorial Building, 15 E S Temple: opens November 28
Gilbert, Arizona, Water Tower Plaza, 45 W Page Ave.: opens November 29
London, England, Hyde Park Chapel and Visitors Center, 64-68 Princes Gate: opens November 30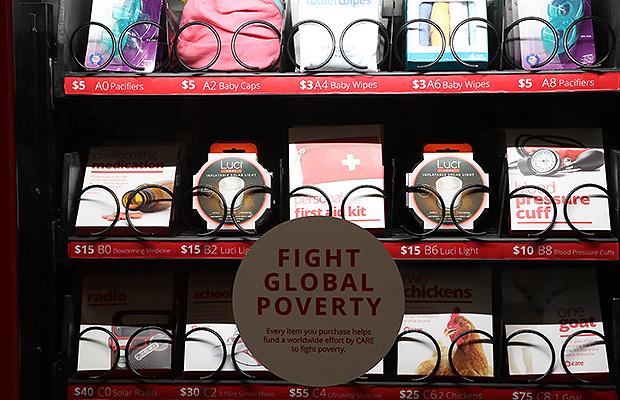 In 2017, Elder Brent H. Nielson, a General Authority Seventy and Executive Director of the Missionary Department, shared the following:
"We've been trying to figure out an easier way to light the world, how do we share this idea of charity, how do we share the Savior's message of helping other people," he said. "As we thought about this, this was something that people do every day. They go to a vending machine to get something, and this was an idea we had where you go to a vending machine to actually give something."
For more information on the Church's 2018 #LightTheWorld initiative, visit LightTheWorld.org.
UPDATES: On December 18, 2018, church spokesman Daniel Woodruff said the following:
We are thrilled with the enthusiastic and generous response worldwide to the #LightTheWorld giving machines. In just a few weeks, these machines have generated 52,279 contributions, resulting in $1,332,128 in total donations to local and global charities.
Some of the most popular items purchased this year include:
-Livestock/animals (goats, cows, chickens): $517,023
-Meals: $207,974.86
-Sewing machines: $75,465
-Water bottles: $53,150
-Polio vaccines: $35,986
Giving machines will continue in place until the end of December.