2019 was a big year for The Church of Jesus Christ of Latter-day Saints! Let's take a look back at the momentous events that occurred this year.
Missions Announced
Brazil Recife South
Cameroon Yaounde
Ecuador Guayaquil East
Ethiopia Addis Ababa
Mozambique Beira
Tanzania Dar es Salaam
Texas Austin
Texas Dallas East
Democratic Republic of the Congo Kinshasa East
Guatemala Antigua
Perú Limatambo
Philippines Antipolo
New Missionary Handbook
In November, the Missionary Handbook was updated. The handbook is important for giving guidance on dealing with a variety of situations and to help them act appropriately.
New Missionary Communication Rules
Missionaries may now communicate with their families on their weekly preparation day (P-day) via text messages, online messaging, phone calls, and video chat in addition to letters and emails.
Argentina Missionary Training Center Closes
The Buenos Aires Argentina MTC closed its doors in July of 2019. Missionaries who would have attended this center will be trained in the Mexico and Brazil MTCs.
Temples Announced
Pago Pago American Samoa
Okinawa City Okinawa
Neiafu Tonga
Tooele Valley Utah
Moses Lake Washington
San Pedro Sula Honduras
Antofagasta Chile
Budapest Hungary
Freetown Sierra Leone
Orem Utah
Port Moresby Papua New Guinea
Bentonville Arkansas
Bacolod Philippines
McAllen Texas
Cobán Guatemala
Taylorsville Utah
Temple Rededications
New Temples Dedicated
Temple Renovations Announced
Temple Recommend Questions Updated
In the October 2019 General Conference, President Nelson announced changes to the Temple Recommend interview questions.
New Witness Policy for Baptisms and Sealings
In October, the First Presidency announced that:
Any member holding a current temple recommend, including a limited-use recommend, may serve as a witness to a proxy baptism.
2. Any endowed member with a current temple recommend may serve as a witness to a living or proxy sealing.
3. Any baptized member of the Church, including children and youth, may serve as a witness to the baptism of a living person
First-year of Come, Follow Me
A new program was put in place in 2019 called Come, Follow Me, which encouraged personal scripture study, family scripture study, and home evening discussions.
New Book of Mormon Videos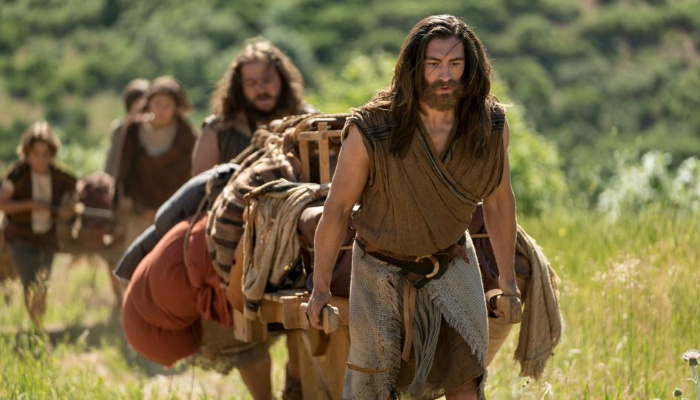 The Church released a new series of Book of Mormon videos in 2019. The first two seasons are out now and the third is being filmed.
First-year of Two-hour church
Everyone's prayers were answered when Elder Cook announced the new two-hour church block. 2019 was the first year it was implemented and was received well.
No More Especially For Youth (EFY) conference
The BYU youth program, Especially For Youth (EFY), will no longer be available. In its place, a new For the Strength of Youth (FSY) program will be implemented. The new program will allow for more global participation.
Changes to Aaronic Priesthood Quorums and Young Women classes
Young Men presidencies are no more! Bishops now lead and mentor the youth. Young Women classes will no longer be referred to as Beehives, Mia Maids, and Laurels. Young Women presidents will remain and will report directly to the bishop.
New Young Women Theme
The new Young Women theme was announced by Sister Cordon. It is listed below in its entirety:
I am a beloved daughter of heavenly parents, with a divine nature and eternal destiny.
As a disciple of Jesus Christ, I strive to become like Him. I seek and act upon personal revelation and minister to others in His holy name.
I will stand as a witness of God at all times and in all things and in all places.
As I strive to qualify for exaltation, I cherish the gift of repentance and seek to improve each day. With faith, I will strengthen my home and family, make and keep sacred covenants, and receive the ordinances and blessings of the holy temple.
Seminary Program Change
Beginning in January 2020, the seminary curriculum and schedule will match that of Come, Follow Me.
Retiring "Mutual"
The word "Mutual" will be retired and will become "Young Women activities," "Aaronic Priesthood quorum activities," or "youth activities." These activities will be held weekly where possible. However, Mutual, the dating app, is still going strong.
President Nelson's Birthday
Members around the world were invited to celebrate President Nelson's 95th birthday. The event took place in the Conference Center in Salt Lake City on Friday, September 6th, and was broadcasted around the world.
Apostles Take a Historic Trip to Rome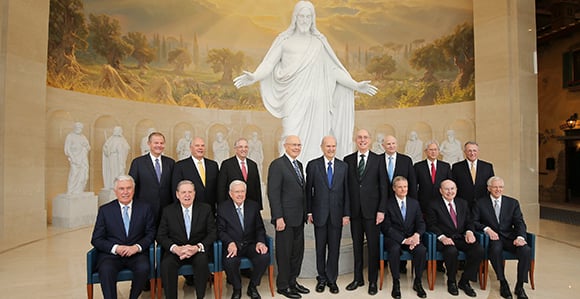 This trip was monumental because it was the first time in Church history that all 15 leaders have gathered in one location outside the United States — and the first group photo taken in two decades.
New Members of the Seventy
New Sunday School Presidency Announced
Announcement of the Monumental April 2020 General Conference
President Nelson's cliff-hanger at the October 2019 general conference left members with a desire for April general conference to HURRY UP AND GET HERE ALREADY! April 2020 general conference "will be different from any previous conference" because it "will commemorate the very foundations of the restored gospel."
Related: 5 Things All of Us Should Relearn Before the Special April 2020 General Conference
Stance on Conversion Therapy
The Church reiterated its stance on conversion therapy during controversial Utah Psychologist Licensing Act Rule.
Statement on Refugees
The First Presidency released a statement regarding the church's stance on refugees following media inquiries.
Statement on Word of Wisdom
Church leaders have clarified that the use of vaping or e-cigarettes, green tea, and coffee-based products, as well as opioid and marijuana use, are all against the Word of Wisdom.
No Wait for Temple Marriage for Civilly Married Couples
Couples who participate in a civil marriage between a man and a woman no longer have to wait a year to be married (or sealed) in a temple.
What a year it has been! What was your favorite moment of 2019?