"I thought he had died and I pulled over immediately." Driving in her car, listening to the radio, Gale heard the prophet's name spoken in a very formal manner: "Spencer W. Kimball, prophet and president of The Church of Jesus Christ of Latter-day Saints…" the announcement began.
Fear struck her heart, and she waited to hear the rest of the news. However, fear soon changed to joy and tears streamed down her face as she heard the monumental announcement that would change history.
"…the long-promised day has come when every faithful, worthy man in the Church may receive the holy priesthood…"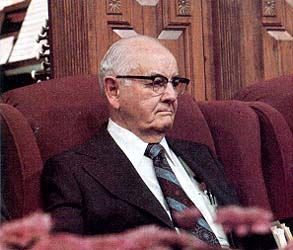 In June of 1978, the First Presidency announced this revelation and on September 30, 1978, it was presented to the Church at the 148thGeneral Conference.
Now, 40 years later, the Church of Jesus Christ of Latter-day Saints has demonstrated that all the world may receive the blessings of the priesthood.
In celebration of the 40th anniversary of this revelation, The First Presidency has announced a once-in-a-lifetime worldwide celebration of this revelation.
Everyone who can is invited to participate in the celebration on June 1, 2018, at 7:30 p.m. by getting tickets for free online to attend in the Conference Center. Those who can't attend may watch the broadcast on churchofjesuschrist.org.
To provide more information about the celebration, the Church has created a website called BeOne.churchofjesuschrist.org, which will feature a message from the First Presidency, stories of faith from Church members and music from Gladys Knight, the Saints Unified Voices, Alex Boyé, the Bonner family, the Unity Gospel Choir International and members of the Mormon Tabernacle Choir.
In describing Zion, the scriptures teach that Zion is made of those who are "of one heart and one mind, and dwell in righteousness" (Moses 7:18) and the prophets are teaching us that now is the time for us to unite as one and become Zion-worthy people.
Watch the trailer video here:
For more information visit:
Stories on Official Declaration 2