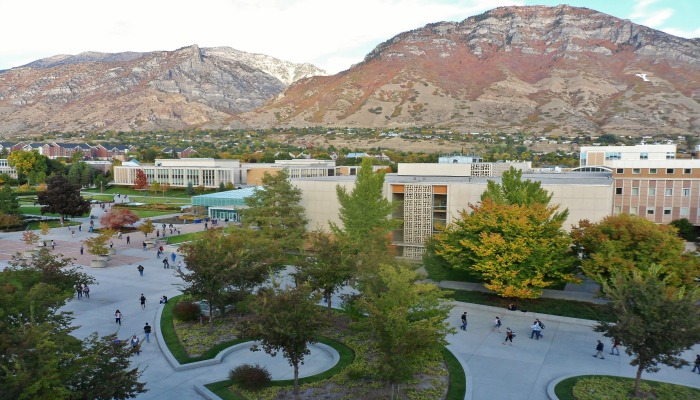 Last October, Online Christian Colleges rated BYU as the third best conservative Christian college in the country.
Online Christian Colleges is an organization dedicated to helping students make educated decisions when selecting an internet-based Christian college. Staff members generated a list entitled Top 30 Conservative Christian Colleges and Universities 2018.
Rankings were created base on three main criteria: church affiliation, the college's perspective on Biblical legitimacy, and whether coursework in Christianity was required for graduation. Staff also gave consideration to benefits such as tuition value, student to faculty ratio, and national recognition for educational excellence or superb student services.
Though BYU's honor code is notably conservative as well, this was not one of the criteria listed when considering their online college program.
Brigham Young University (BYU) is strongly affiliated with The Church of Jesus Christ of Latter-day Saints. BYU is a large school with a wide variety of majors. It requires 14 hours of coursework in Christian religion classes to graduate. The student to faculty ratio is 21:1.
Tuition is subsidized by the Church and is particularly low in relation to other colleges on the list. Forbes Magazine ranked BYU as #10 in the nation for its return on investment, comparing the quality of education and average salary of alumni to the price of tuition.
Brigham Young University-Idaho ranked second on the list and Grove City College, a small evangelical liberal arts college in Pennsylvania, was ranked first.
Two LDS universities making the top three of this list may be considered by some to be controversial for two reasons.
First, at least two other schools listed in the rankings have officially referred to Mormonism as a cult.
In 2000, an article from the Washington post reported that the president of Bob Jones University stated that Catholicism and Mormonism are cults.
In 2015, Oral Roberts University offered a graduate course called "Contemporary Religious Cults," listing Mormonism on the syllabus.
Stephen E. Robertson addresses the concern that Mormonism is a cult in a May 1998 article in the New Era: "The truth is there is no objective distinction by which a cult may be distinguished from a religion. Use of the term cult does not tell us what a religion is, only how it is regarded by the person using the term…Though non-LDS scholars have made many attempts to define a 'cult' in a way that would distinguish it from a 'religion,' to date every such attempt has failed. So far the major difficulty has been that any definition of 'cult' that fits the LDS Church also fits New Testament Christianity! But that's not bad company to be in."
Secondly, there is some debate upon whether Mormons are considered Christian.
According to an official Church article called Are Mormons Christian?, "Members of The Church of Jesus Christ of Latter-day Saints unequivocally affirm themselves to be Christians." The article explains the reasons for the controversy in detail.
LDS Church founder Joseph Smith stated that: "The fundamental principles of our religion is the testimony of the apostles and prophets concerning Jesus Christ, 'that he died, was buried, and rose again the third day, and ascended up into heaven;' and all other things are only appendages to these, which pertain to our religion."
In the year 2000, modern apostles of the LDS Church published a proclamation to the world affirming Jesus Christ's divinity entitled The Living Christ. "We bear testimony," they write, "as His duly ordained Apostles—that Jesus is the Living Christ, the immortal Son of God."