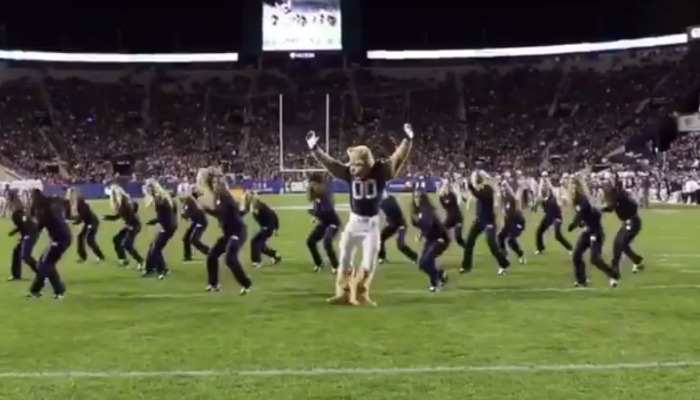 Brigham Young University's Cosmo the Cougar and the Cougarettes are making national headlines with their latest performance during last week's football game against Boise State.
BYU football left the game with a loss, but the halftime performance has since gone viral with several million views. Watch the video below:
Really need to know who this cougar is pic.twitter.com/7gqzdzIVb2

— Jasmine (@JasmineLWatkins) October 10, 2017
And the crowd goes wild! Cosmo's smooth moves have garnered attention from The Washington Post, USA Today, Deseret News, Yahoo Sports, Inside Edition, MSN and plenty more.
Cosmo joined the Cougarettes for their performance of "Rolex" by Ayo and Teo. According to CBS in Los Angeles (see Tweet below), the team has not released the identity of the person behind Cosmo's moves. We only know that it's a male senior at BYU. Here are just a few reactions from the Twittersphere that helped the video go viral:
CBS was all over this story
WATCH: @BYU's Cosmo the Cougar mascot has some moves! Check out what happens when he joined @CougarettesBYU at their homecoming game. 🕺🏈💃 pic.twitter.com/zmJLs4SAxA

— CBS This Morning (@CBSThisMorning) October 10, 2017
Bold statement from SB Nation
This is the greatest mascot dance of all time https://t.co/lpRvAnbllZ

— College Football by SB Nation 🏈 (@SBNationCFB) October 11, 2017
Bleacher Report is kind of a big deal
BYU came to shut it down 🔥 (via @cougarettesBYU and @BYUCougar) pic.twitter.com/JwFtrP8Iw2

— Bleacher Report (@BleacherReport) October 9, 2017
Dance Spirit Magazine chimed in
.@BYUCougars' Cosmo the Cougar has some halftime moves that will absolutely destroy you: https://t.co/5vzejNov0R (📷 via Instagram) pic.twitter.com/rjScnl3phH

— Dance Spirit (@Dance_SpiritMag) October 10, 2017
It's been a rough season for BYU, but at least we've got Cosmo and the Cougarettes
BYU is 1-5, but the Cougar is 6-0 🔥

(Video via @BYUBarstool) pic.twitter.com/qhwJ1N36xV

— YourSports (@YourSports) October 10, 2017
Even the world of dance acknowledges Cosmo's skill
This mascot dances better than all of us and we're not even mad about it.

Meet Cosmo the Cougar from @BYU ➡️ https://t.co/BoyRruMYOt pic.twitter.com/XYP54dfVNA

— FloCheer (@FloCheer) October 9, 2017
CBS in L.A. even picked it up—no word yet on who is behind the Cosmo mask
BYU mascot's dance moves has everyone asking — who is that man in the cougar mask? pic.twitter.com/HxfQkZfaL1

— CBS Los Angeles (@CBSLA) October 11, 2017
And of course, Utah's own KSL
The play of the game between BYU and Boise State belongs to Cosmo and the @CougarettesBYU @BYUCougar @KSL5TV pic.twitter.com/jzmb3AO2q1

— Jeremiah Jensen (@JJSportsBeat) October 10, 2017
But it's not the first time Cosmo and the Cougarettes have put on a performance like this. Last year this video went viral with more than two million views:
Needless to say, Cosmo and the Cougarettes have some serious moves.