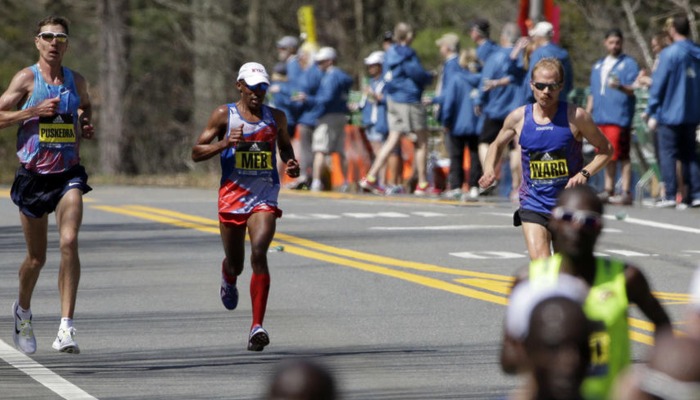 You probably heard Jared Ward's name being thrown around during the Rio Olympics — or maybe you're just one of his statistics students at BYU.
After a well-deserved break, Ward was back kicking asphalt at the 120th Boston Marathon this past Monday, April 17th. The sixth American to finish, Ward placed 10th overall with a time of 2:15:28.
"I had hoped for more in terms of place and time, but I was pleased with my effort," Ward told the Deseret News.
The Boston Marathon course differs greatly from the flat courses of the U.S. Olympic trials and the Rio Olympic Games.  In a pre-race interview with Competitor.com's Jim Gerwick, Ward felt confident in his health and preparation.
"I've especially tried to prepare for the downhills, hit the weight room and did eccentric lifting to get my quads ready for the pounding," said Ward. "Training in Provo (Utah) it's hard not to get in some pretty good hill training. That being said, for me the pattern has been to get really fit, be healthy, and trust your fitness on race day."
But the grueling course and stomach complications starting at mile six made the race less than ideal for Ward.
"There were a couple of times I didn't know if I could make it to the finish, especially at about Mile 23. I was light-headed and heavy-legged. But it was motivating to think of the 30,000 runners behind me who were going to get to the finish line for their family and friends."
An old rivalry was revisited during the race, as Ward competed against fellow Utahn Luke Puskedra. In addition to competing in high school, the pair duked it out at the Los Angeles Olympic trials. During the Olympic trials, Ward finished third, pushing Puskedra to fourth and keeping him from making the Olympic team. But at Boston, the roles were reversed, with Puskedra coming in 9th overall, just a minute before Ward.
"I've known Luke a long time," says Ward told Deseret News. "I ran next to him for a while (on Monday) and were working together for a while, and then he passed me."