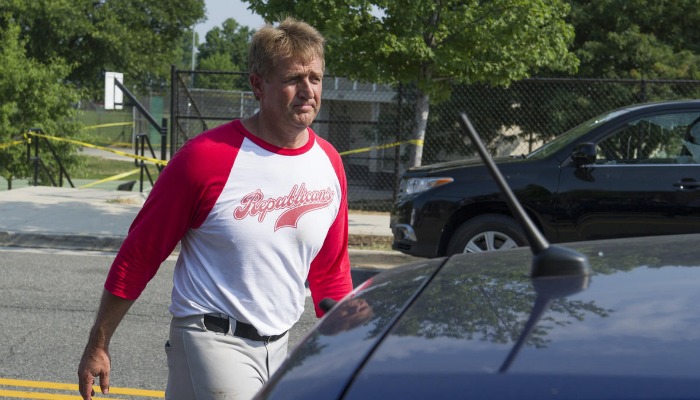 Sen. Jeff Flake, R-Az. was up to bat when a loud shot rang out over the field.
"We were doing batting practice," Flake told the Associated Press. "All of a sudden we heard a very loud shot. The gunman was over by the third base dugout with a clear view of the field."
Flake said the gunmen touted "a rifle of some sort… [and] a lot of ammo."
Without missing a beat, the Brigham Young University graduate sprang into action. Flake rushed to the wounded top House Republican, Steve Scalise of Louisiana. With the help of Rep. Brad Wenstrup, R-Ohio, Flake applied pressure to the gunshot wound, reported ABC.
Flake then dialed up Scalise's wife so that she could hear the news firsthand. The Arizona Senator also reportedly instructed the other congressional members to hide a 10-year-old boy in a dugout while the gunmen opened fire.
Following the shooting, multiple Utah delegates offered their prayers and condolences.
Our prayers are with @SteveScalise and other victims. Incredibly glad Capitol Police were on hand to intervene. Monitoring the situation.

— Senator Hatch Office (@senorrinhatch) June 14, 2017
Thoughts and prayers are with those impacted by the shooting in Virginia today. God bless the @CapitolPolice

— Bishop for Congress (@RobBishopUT) June 14, 2017
My prayers are w Steve and others who were shot. Their family's as well. Angry and heartbroken.

— Rep. Chris Stewart (@RepChrisStewart) June 14, 2017
#shooting happened at men's baseball practice-I play in women's softball game-separate. Concerned for all my friends this a.m. #utpol

— Rep. Mia Love (@RepMiaLove) June 14, 2017
Praying for my colleagues this morning. God bless

— Jason Chaffetz (@jasoninthehouse) June 14, 2017
The suspected shooter, 66-year-old James Hodgkinson of Illinois, was killed during the shootout. Police recovered an SKS rifle 7.62 (which is a Chinese-made AK variant) and a 9 mm pistol at the scene — traces are still being done on the weapons.
Congressional staffer, Zach Barth and Matt Mika, a lobbyist for Tyson Foods and former staffer, among various members of the Capitol Police and Scalise's security detail were injured during the shooting.
House majority whip, Steven Scalise, was reportedly shot in the hip and transported to Medstar Washington Hospital Center. The New York Times reported Scalise was in critical condition following multiple surgeries on his left hip, where the bullet struck him.
"Congressman Scalise is a friend, and a very good friend," said President Trump following the shooting. "He's a patriot. And he's a fighter. He will recover from this assault — and Steve, I want you to know that you have the prayers not only of the entire city behind you, but of an entire nation, and frankly the entire world. America is praying for you and America is praying for all of the victims of this terrible shooting."