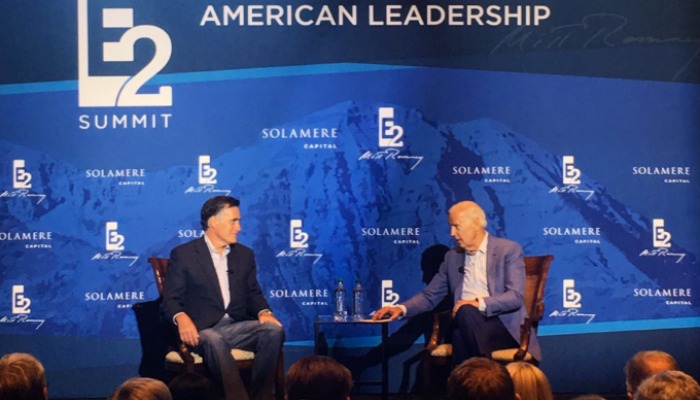 Should Sen. Orrin Hatch (R-Utah) forego reelection, Mitt Romney can count on former Vice President Joe Biden's blessing for a Senate run.
Former GOP Presidential nominee, Mitt Romney, hosted an annual invitation-only business and politics summit Friday June, 9th in Park City, UT. Though the event was closed to the press, reports of warm bi-partisan talk and pleasant conversation made their way to the public.
Most notably, Politico reported, Biden encouraged Romney to consider a Senate bid. Romney responded with little more than a smile.
Whether Romney is actually interested in the position is another story. According to Politico, on May 25th, Hatch told reporters, "I've talked to Mitt Romney. He's not going to run for this seat. I would be glad for him if he would."
If Romney does choose to throw his hat in the ring for a Senate run, he might find support from an unlikely source. He revealed that while under consideration for the position of Secretary of State, former Democratic Presidential nominee, Hillary Clinton, urged him to take the position.
"I would've accepted the job," the former Massachusetts governor said.
Regardless of whether Mitt Romney ends up with a Senate seat or not, the White House is getting stocked with Mormons.
Trump Picks Randal Quarles For Federal Reserve's Board of Governors
Though it has yet to be released by the White House, the New York Times reported Latter-day Saint and Utahn, Randal Quarles, was picked for one of three openings on the Federal Reserve's Board of Governors. 
Quarles, a Treasury Department official in the George W. Bush administration, would become a key-leader in the department's efforts to restrain financial regulation and would be considered for a position as the Fed's vice chairman.
Quarles is plenty qualified for the position, having graduated from both Columbia and Yale Law School, ranking at the top of renowned Wall Street law firm Davis Polk, and  serving as U.S. executive director of the International Monetary Fund.
According to Deseret News, one of Quarles' more curious assignments was home teaching side-by-side with Sen. Harry Reid in their local D.C. congregation. Quarles did not comment on whether they achieved 100% home teaching every month.
Utahn Greg Sheehan Tapped For U.S. Fish And Wildlife Service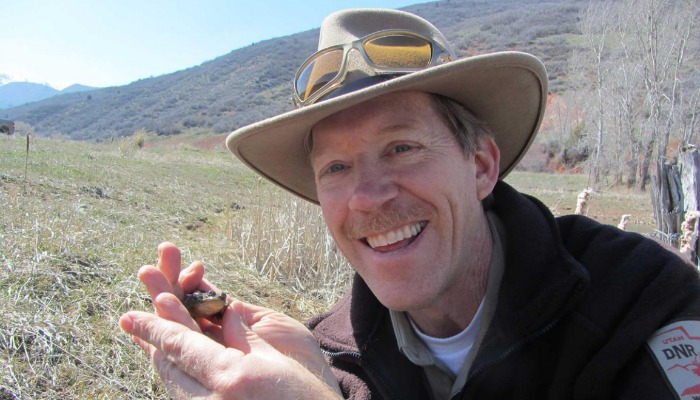 Greg Sheehan has been the director of the Utah Division of Wildlife Resources since 2012. With 25 years of experience under his belt and credit for helping build the state's reputation as one of the best wildlife managers in the country, it's no wonder Interior Secretary Ryan Zinke picked Sheehan to temporarily lead in this newly created position.
"I am thrilled to have an opportunity to work with Secretary Zinke and the great team at the U.S. Fish and Wildlife Service," Sheehan told Deseret News. "I look forward to helping promote the fish and wildlife resources in America through collaborative partnerships with states, local government, the sportsmen's community and others."
Sheehan will be the agency's first deputy director until President Trump names a permanent director to then be confirmed by the Senate.
Sheehan will assume his new post on June 19th.
On The Other Side of The Sea…
Our brothers and sisters in the United Kingdom are also seeing government seats filled with Mormons.
In the most recent general election, held June 8, 2017, three Latter-day Saints were elected to Parliament — Stephen Kerr, David Rutley, and Craig Whittaker.
British Conservative Party member and Macclesfield representative, David Rutley has been a member of Parliament since 2010, along with fellow Latter-day Saint, Craig Whittaker, who represents Calder Valley.
The only LDS newcomer for this election is former Scottish Parliament member, Stephen Kerr. Kerr served as an Area Seventy from 2006 to 2013, and presided over the first LDS pageant held in Britain.