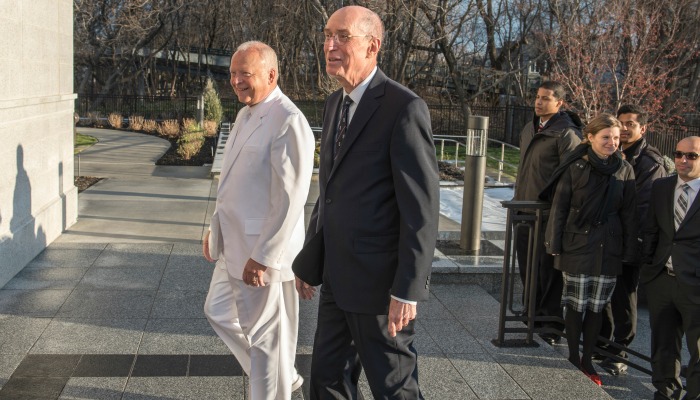 SALT LAKE CITY —  President Henry B. Eyring, first counselor in the First Presidency of The Church of Jesus Christ of Latter-day Saints, rededicated the Montreal Quebec Temple in three sessions Sunday, November 22, 2015, after the temple underwent extensive repairs and renovations. The sessions were broadcast to meetinghouses throughout Canada, enabling thousands of Latter-day Saints to participate.
Assisting President Eyring was presiding bishop of the Church Gérald Caussé, Elder L. Whitney Clayton of the Presidency of the Seventy and Elders Anthony D. Perkins and Kent F. Richards of the Seventy.
Prior to the re-dedication, more than 400 Mormon youth from Quebec and eastern Ontario Canada gathered on November 21, 2015, to participate in a cultural event representing their spiritual and cultural heritage and the diverse history of the area. In a production named after the French province's motto "Je me souviens — I remember," the 12- to 18-year-old youth sang, danced and narrated their way through the various histories and cultures they represent.
Continue reading at MormonNewsroom.com.