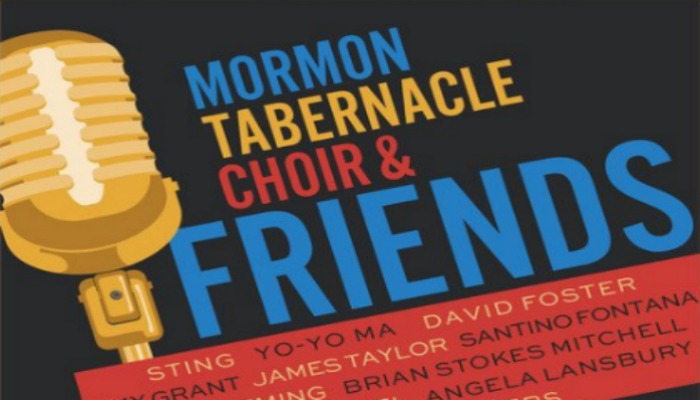 The Mormon Tabernacle Choir has tried their voices in nearly every genre, from the sacred music it is famous for to rock and roll and Broadway. Famous singers from across the world have teamed up with the 360 strong voices to create beautiful compositions that honestly blow us away.
We all know that Dallin Bayles and David Archuleta have sung with the choir and totally killed it. But did you know James Taylor and Sting have also tried their voices with the choir? In fact, the Mormon Tabernacle Choir has been collaborating with noteworthy artists for years.
You can finally have a collection of those amazing performances. The Mormon Tabernacle Choir will release a new album of collaborations on Friday, May 12, called Mormon Tabernacle Choir & Friends.
The album features performances from the past 15 years, as well as four new songs with Amy Grant, Santino Fontana, Renée Fleming, and The King's Singers. Highlights include the choir's performance of "Fragile" with Sting, Yo-Yo Ma, and the Utah Symphony in the 2002 Olympic Opening Ceremonies in Salt Lake City.
"Special care went into choosing each of the songs for this new album," said Mack Wilberg, music director of the Choir. "The album highlights some of the most unforgettable musical moments in the recent history of the Choir."
The complete track list includes Sting and Yo-Yo Ma ("Fragile"); David Foster ("The Prayer" from Quest for Camelot); Amy Grant ("Thy Word"); James Taylor ("That Lonesome Road"); Santino Fontana ("He Lives in You" from The Lion King); Renée Fleming ("How Can I Keep from Singing?"); Brian Stokes Mitchell ("Through Heaven's Eyes" from The Prince of Egypt); Sissel ("Vitae Lux"); Bryn Terfel ("Homeward Bound"); Angela Lansbury ("Beauty and the Beast" from Beauty and the Beast); The King's Singers ("I'm Runnin' On").
Mormon Tabernacle Choir & Friends is available for preorder on Deseret Book and Amazon.