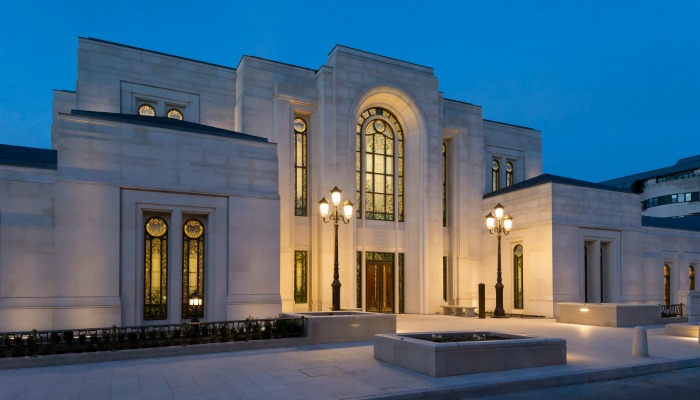 The open house schedule has been announced for the new Paris Temple in the community of Le Chesnay.
The public is invited to tour the new temple from Saturday, April 22, 2017, through Saturday, May 13, 2017, except for the Sundays of April 23 and 30 and May 7.
A cultural celebration will be held Saturday, May 20, 2017, featuring music and dance performances by local Mormon youth. The 44,175-square-foot temple will be dedicated the following day on Sunday, May 21, in three sessions. It will then become the 156th operating temple of the Church worldwide.
That a temple would be built in Paris was announced by President Thomas S. Monson in October General Conference, 2011. The Groundbreaking for the temple was held on August 24, 2012. The temple is a five-minute walk from the garden entrance of the Versailles Palace.
There is no Angel Moroni atop this temple because of building restrictions. However, there is a Christus statue in the garden.
The Design of the Paris Temple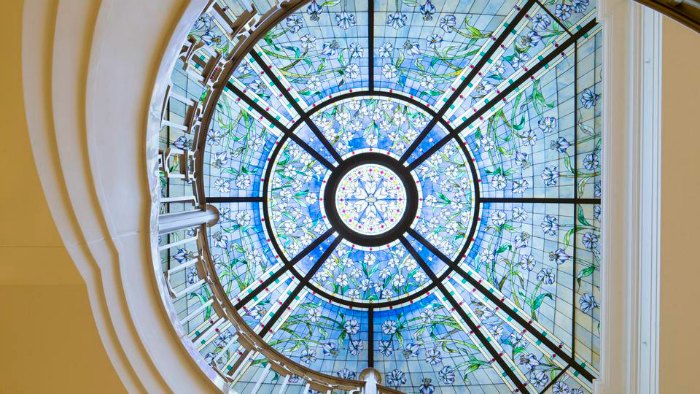 In order to truly reflect the culture and history of Paris and France, American and French design teams worked together. The exterior of the temple is dressed in warm-toned Portuguese limestone reflective of material used on building exteriors in the region, giving it a sense of nobility and grandeur.
The windows are designed to reflect the tranquility of a French garden, and are based on the floral designs of French impressionist Claude Monet.  Tom Holdman of Utah-based Holdman Studios, who crafted the stained glass windows, also looked to the French national flower, the fleur de lis.  Inspiration was even taken from the nearby gardens of the world-famous Palace of Versailles, home to Louis XIV.
Interior architecture includes mahogany and cherry woods, stone floors, and cast bronze hardware.  A gold chandelier in the celestial room is crafted with Swarovski crystals. Framed art inside the Paris France Temple includes several original pieces from artists Nicholas Coleman, Glenda Gleave, Mary Sauer and Elspeth Young.
The LDS Church in France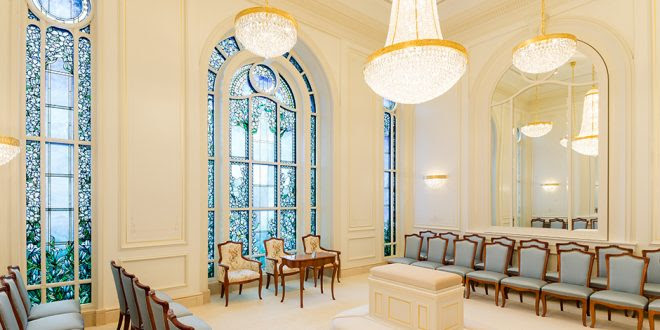 There are currently about 38,000 members of the Church in more than 100 congregations in France, many of them second-, third- and fourth-generation Latter-day Saints.
The first missionary arrived in 1849, and a small congregation was organized in 1850. Missionaries are now serving in two missions in the country.
Reservations to tour the Paris France Temple can be made online at templeopenhouse.churchofjesuschrist.org.