Deseret News reports on how Dawn Armstrong, the "missionary mom" from the 2014 film Meet the Mormons, has launched an initiative aimed at helping homeless teens.
Deseret News quotes Armstrong from a recent press release as she explains how homeless teens are sometimes harder to spot: "You see a kid with a backpack at the library and you think she's just a student. What you don't realize is that everything that she owns is in that backpack and it's the only place she has to sit down and feel safe. Those kids playing video games at the kiosk in the mall? That's where those boys get out of the elements and don't get in trouble for loitering."
The initiative is called "Closer to Home" and has stemmed from Armstrong's own remarkable and heartbreaking experience of living life as a homeless teen herself.
Armstrong wrote a powerful blog post about her time as a homeless teen in hopes of bringing awareness to the fact that homeless teens are out there and desperately in need of help. Here's the link to her heart-wrenching story which was published by Deseret News.
In an effort to get the word out about her initiative, a video was posted on her Facebook page featuring Armstrong and Steven Sharp Nelson of The Piano Guys. Here's the link to the video, you definitely need to check it out.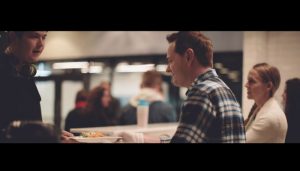 Piano Guy Steven Sharp Nelson was quoted in the same article saying, "As I was looking forward to spending time with these incredible youth through this initiative, I couldn't help but picture my own kids in their place. Knowing that there are kids in our communities that are going without parents, without their basic needs met, you can't help but become emotional. It calls your heart to do more."
In the video, Armstrong mentions how thousands of people had reached out to her in an effort to find out what they could do to help the homeless teens in their own area. She then instructs them to go to the website  LoveDawn.com to find out more about how they can serve, mentor, and/or donate to help.
One thing I noticed from her Facebook post, however, was the hashtag #LightTheWorld. Perhaps we can all take a page from these two stalwart members' example and try to #LightTheWorld this Christmas by working to serve the homeless teens in our communities as well as any others we may be inspired to serve.
To learn more about #LightTheWorld and the mission behind it, check out our other article.