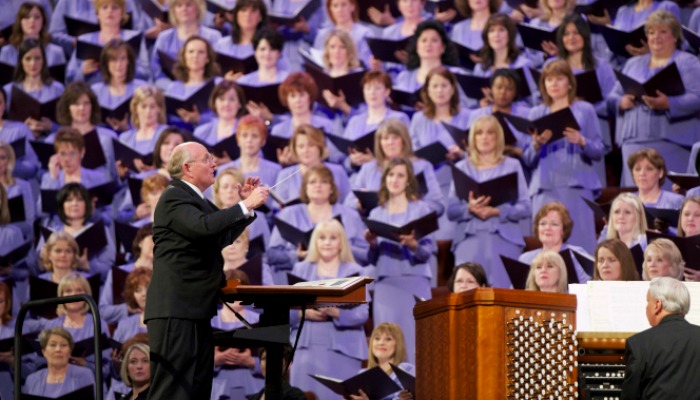 The Mormon Tabernacle Choir is now 171 years old. That's long enough for its name to become a household word world-wide. Now, the choir is getting a name change. It will now be called "The Tabernacle Choir at Temple Square." The new name goes well with that of the Orchestra at Temple Square.
The new name is the most tangible and significant change made yet to comply with President Nelson's August announcement that the church will drop the nicknames "Mormon" and "LDS" in most uses and employ either the full name of the church or the phrases the Church of Jesus Christ, restored Church of Jesus Christ or Latter-day Saints (Deseret News).
Although members of the Church should be able to make the adjustment quickly (except that now MoTab won't work as a nickname), it might take the general public quite a bit longer. Rebranding the choir outside the Church could take years.
The process will look messy. For instance, the Church and choir will retain ownership of the classic name. The Christmas special the choir taped last December under the old name. The performers will still be billed as the Mormon Tabernacle Choir when the special airs this Christmas on PBS and BYUtv. The same goes for the companion book, CD and DVD published and distributed by the Deseret Book label Shadow Mountain.
The choir has had multiple names in its 171-year history. It began three weeks after the pioneers arrived in the Salt Lake Valley in 1847 and soon established itself in a bowery on Temple Square. It became the Tabernacle Choir in 1867, when the Salt Lake Tabernacle was completed. But then tabernacles were built in other Utah cities, so it became the Salt Lake Tabernacle Choir.
As the choir became known outside of Utah, the word 'Mormon' was added. 'Salt Lake' was dropped and the name became Mormon Tabernacle Choir. The choir started to broadcast Music and the Spoken Word via radio in 1929. The choir has more than 2,000 television, cable and radio broadcast partners worldwide for Music and the Spoken Word. Sheri Dew calls the choir "one of the crown jewels of the Church."
Teams from around the church have helped with updating all the choir's social media platforms and web pages. A new logo will be needed. The choir also is working with its many partners on the change, including PBS, Deseret Book, BYUtv and BonCom.
The choir's digital platforms have new addresses as follows:
• Website thetabernaclechoir.org
• Facebook facebook.com/thetabernaclechoir
• Twitter twitter.com/@thetabernaclechoir
• YouTube youtube.com/thetabernaclechoir
• Instagram instagram.com/thetabernaclechoir
• Pinterest pinterest.com/thetabernaclechoir
• Google+ plus.google.com/+thetabernaclechoir
Any recommendations for a new nickname replacing MoTab? Share in the comments.
Aaannnnd the memes are beginning to roll forth: