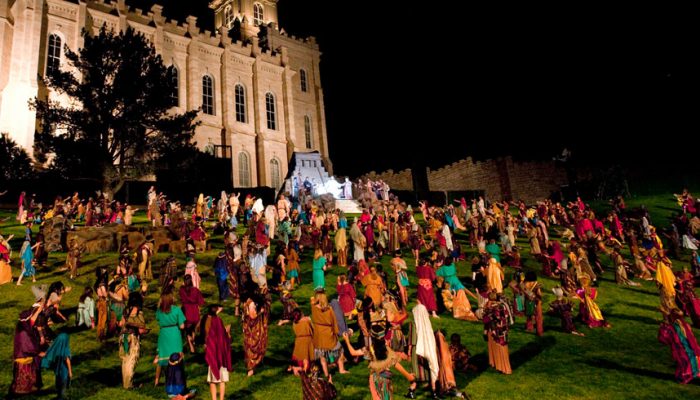 Only 21 more days until crowds will be spotting the Manti Temple grounds to watch the annual summer pageant. The Mormon Miracle Pageant kicks off on Thursday, June 19. Performances are every evening through June 28, with the exception of Sunday and Monday. The pageant consists of a cast of more than 800 performers, who learn blocking and cues, receive costumes, and learn choreography to perform in front of visitors, young and old.
This production—full of song and dance—is performed on a stage larger than a football field, and has become an annual tradition for many families. The story revolves around three intertwining plots of the restoration of the gospel, witness of the Book of Mormon, and the journey of faithful pioneers to the beautiful Sanpete Valley. This year's pageant brings a few changes to Manti. MormonMiracle.org, reports that during the last two years all previous sets have been entirely replaced. Additional updates include redesigned costumes and newly staged scenes in order to match the updated set. This year also marks the first time ever that the the visit of the resurrected Christ to these ancient people will be portrayed.
MormonMiracle.org paints perfect picture, describing what audience members will experience as they watch the production unfold:
"As you sit under a canopy of stars –the beautiful Manti Temple rising before you — you can look to the east and see the beauty of the hills much as it was when these ancient people lived and died."
The Mormon Miracle Pageant starts each evening at 9:30, and is free of charge. Visit the pageant's website for more information on activities, food, seating, and parking.