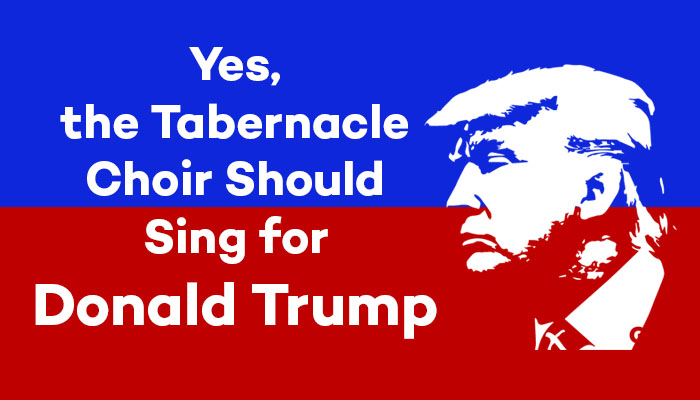 The Mormon Tabernacle Choir accepted an invitation to sing at the January 20th presidential inauguration of Donald Trump. I believe they should perform.
Let's start with why some people might be concerned about them performing. Donald Trump has clearly and repeatedly opposed the Church's positions on religious freedom, immigration, and abortion. His cavalier attitudes toward sexual assault fly in the face of LDS teachings on respect for women. As a politician, Trump represents many values that are contrary to the values of the Church of Jesus Christ.
Trump, both himself and his campaign, insulted Latter-day Saints on several occasions. And while many Latter-day Saints ended up voting for Trump, many who did based their vote on the weakness of the other candidates and the utility of their vote. All things considered, Donald Trump is an odd fit for the Mo Tab.
Now some will suggest that it is time for the country to come together. I don't agree, and I think the suggestion that we should is disingenuous. When other presidents with whom I have major political problems get elected, I don't simply jump on board; instead, I look for ways to deal with the new status quo. But this doesn't mean I don't think the choir should sing at the inauguration, just the opposite.
We must accept the reality of the election's outcome, and look for ways to gain influence within the new political order. During President Obama's term in office, those who opposed his policies did so by empowering congressional representatives to be intransigent. But given the reality of single party rule in the federal legislature (as well as most state legislatures), a wiser approach would appear to be working with the new administration to influence policy decisions.
This approach seems to be the one shared by Mitt Romney in considering serving in the Trump administration. While Romney certainly doesn't represent the Church, his opposition to Trump seemed based on many of the frustrations shared by other Latter-day Saints. His willingness to work with and influence the Trump administration despite those frustrations may share a similar trajectory.
The institutional Church always follows this pattern, congratulating every new president-elect, including Trump.
One reason why the Mormon Tabernacle Choir's acceptance of Trump's invitation is newsworthy is because of the number of other musical performers who declined to perform at the Trump inauguration. Those who have made their stance public often cite the values Trump campaigned on as particularly troubling.
Those performers claim that performing would be tantamount to endorsing Trump. And they are free to interpret their own participation this way. But just because they equate performance with endorsement does not mean that a performance necessarily is an endorsement. A Church spokesman made this clear in a statement, " [Singing at the inauguration] is not an implied support of party affiliations or politics. It is a demonstration of our support for freedom, civility and the peaceful transition of power." Those who insist that the choir's participation represents an endorsement of Trump's politics are guilty of a simple attribution error.
Do I worry about the impression people will get of the Church by the choir saying yes? Absolutely. It's important that Latter-day Saints are seen representing good. And the last thing the Mormon Tabernacle Choir wants is to be perceived as endorsing the racist, sexist statements of the incoming president.
But by simply being asked, the Choir has been put in an awkward situation. The choir has previously performed at seven previous inaugurations, including Richard Nixon and Lyndon B. Johnson. The Church should and has stuck to a strict position of neutrality when it comes to political parties and political candidates. Rejecting Trump's invitation would prove to undermine that neutral foundation. Those who insist that this is a political statement are revealing their own biases, not those of the choir or Church.
While individual Latter-day Saints, like Mitt Romney or me, are free to apply their moral values to individual candidates. Church institutions, like the choir, should not. Doing so not only allows them to stay above the political fray but allows our voices to influence the president regardless of his or her political party.
So while the Mormon Tabernacle Choir's upcoming performance certainly should pose important ethical questions to the Church's members, ultimately they've done both the right and prudent thing by choosing to perform.
UPDATE: As expected, reactions to the Choir's decision to sing at the inauguration have been polarized, so much so, that the Church has issued the following response:
"Response to the announcement has been mixed, with people expressing both opposition and support," church spokesman Eric Hawkins said in a statement. "The choir's participation continues its long tradition of performing for U.S. presidents of both parties at inaugurations and in other settings, and is not an implied support of party affiliations or politics. It is a demonstration of our support for freedom, civility and the peaceful transition of power."