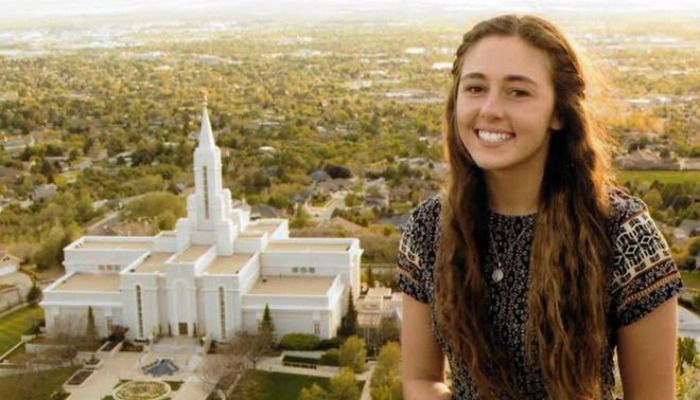 A sister missionary for The Church of Jesus Christ of Latter-day Saints died Tuesday in a car crash.
Sadie Wells, a 20-year-old from Kaysville, Utah, was riding in a car with three other sister missionaries when a school bus allegedly ran a stop sign and crashed into their Chevrolet Cruz. Wells was sitting in the front passenger seat of the car and police pronounced her dead at the scene.
Fox13 reports that the bus was carrying 32 students from the Cumberland Valley School District and that only two students were sent to the hospital with minor injuries. The three other sister missionaries sustained non-life threatening injuries from the accident.
Deseret News reports that the Wells family released the following statement Wednesday morning in response to their loss:
"We are deeply saddened by the loss of our daughter and sister, Sadie Danielle Wells. We will miss her smile and vibrant, fun-loving personality. Our concern is for her mission companion and the other sister missionaries involved in the accident, and we pray for them and their families.
Sadie loved life and loved being a missionary. Her letters home were filled with her vibrant personality, love for the people of Pennsylvania, love of the gospel and love for her Savior, Jesus Christ.
We draw comfort from the belief that Sadie is with her Heavenly Father and that she continues the Lord's work with the same vigor and enthusiasm that she did in life. Sadie ended each of her emails with the words of a favorite Primary song, 'Have faith, have hope, live like his Son, help others on their way.' We ask all to pay tribute to Sadie by living their lives this way."
Kirsten Howey, spokesperson for the Church, expressed her condolences to the Wells family on behalf of the Church.
"We pray for the injured sisters and for the families of all four sisters at this difficult time," Howey stated. "We extend our sincerest sympathies to the Wells family for the loss of their daughter, and to other loved ones, friends, and fellow missionaries who were blessed by her friendship and example."
Wells had been serving as a missionary for the Church in the Philadelphia Pittsburgh mission since May 2015.