Once upon a time, we weren't in a worldwide pandemic. Crazy, right? Well, during that time, there were organ concerts held frequently on Temple Square in Salt Lake City, Utah. While they had to be put on hold for a while, they're starting back up again. However, this time, it's with a technological twist.
Related: EXCLUSIVE: BYU Vocal Point Discusses Their New Album, COVID-19, and Faith
What Are the Details?
Andrew Unsworth and Brian Mathias are organists that play during these recitals. They recently did an interview with Deseret News to promote the new online concert series: "Piping Up: Organ Concerts at Temple Square."
This concert series will be streamed online at noon every Monday, Wednesday, and Friday! You can find the live broadcast on YouTube, the Church's website, and the Tabernacle Choir's website. The series only began on Monday, June 22, so you still have many opportunities to tune in!
In total, there are five different organists you can watch perform: Richard Elliott, Andrew Unsworth, Brian Mathias, Linda Margetts, and Joseph Peeples. The recitals will rotate through featuring each one of these musicians for 30 minutes and feature a variety of musical styles.
The Goal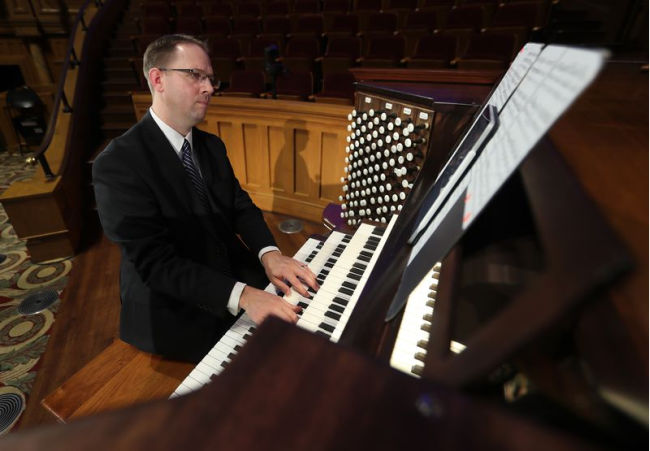 "I think [Richard Elliott] felt, and we all agreed, that this is a unique time. We don't know when the Tabernacle Choir will be able to meet again," Unsworth said. "This is a musical offering that we can make under these conditions and we ought to contribute some sort of artistic, musical, and even spiritual offering to the world at this unique time."
Previously, these concerts attracted tourists and organ lovers. However, they haven't been the most well-attended event on Temple Square. These musicians are hoping to share their talents with even more people!
"We have a chance to reach a bigger, wider audience," Mathias said. "We're excited to see what kind of interest there is in these recitals online."
Spreading Joy
The organists are overjoyed to be playing music for an audience again. They hope to spread their love of the gospel through this medium and bring joy to those that might be struggling during this time.
I hope you can find time to tune in and feel the beautiful spirit that their music brings. You can find even more information and concert programs on the Tabernacle Choir's website! Enjoy!
Related: Mat and Savanna Shaw: The Daddy-Daughter Duo Taking the Internet By Storm
Don't forget to share this article with others so that they can enjoy the organ recitals as well! And before you go, check out this amazing performance by one of the organists you could watch live: