Family, friends, and members of The Church of Jesus Christ of Latter-day Saints paid their respects to Elder L. Tom Perry this morning at his funeral in Salt Lake City.
After the Mormon Tabernacle Choir opened the services singing "O, My Father," Perry's son, Lee T. Perry, thanked the physicians and nurses, family, friends, and Latter-day Saints for their love and support. Lee said, "I am certain that Elder Perry is looking down on all of us right now and is very pleased that we are all gathered together."
Lee continued, speaking directly to President Boyd K. Packer, expressing the love he knew his father had for his colleague. Lee explained that if Perry had lived just a few more days, today would mark 21 years that he and Packer have served in the Quorum of the Twelve as the most senior apostles. Stating that Perry saw every day of his life as a glorious day, Lee closed his remarks, saying, "[Elder Perry] is now enthusiastically teaching the gospel in the spirit world."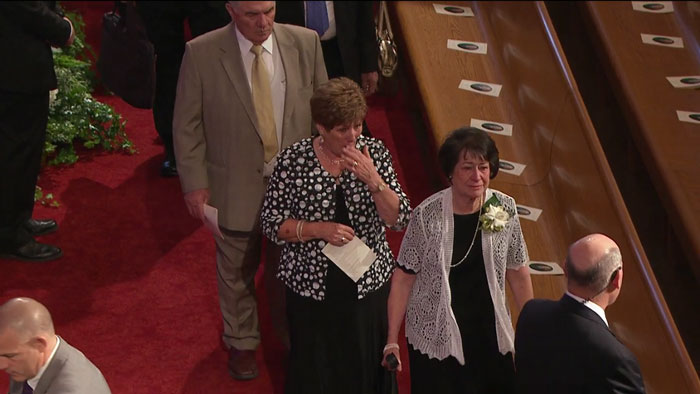 Adding to Lee's remarks, Elder Russell M. Ballard and Dallin H. Oaks each spoke in memory of their friend and fellow Apostle of the Lord.
Ballard shared that Perry had a remarkable optimism about him as he often told others, "I've never had a bad day in my life." Referring to his fellow Apostle of the Lord as a man who "has always been larger than life," Ballard stated that "[Perry] always taught us that we could do more, do better, and move faster!"
Oaks recalled a recent visit with Elder Perry prior to his passing in which Perry expressed his love for the youth of the Church. Perry had said, "These young people….I just love them. They're strong." Oaks closed with the testimony that Perry shared during his last conference talk, exactly two months ago. "Let me close by saying that in the nine decades I've been alive I have found that Family is the key to happiness," Oaks quotes Perrry. "Of this eternal sacred truth, I bare my strongest and most sacred witness, in the name of Jesus Christ, Amen."
Concluding speaker, President Thomas S. Monson, shared that when Perry was one who responded willingly to any assignment and that everyone had complete confidence in. Monson explained that Perry truly was an "example of the believers, in word, in conversation, in charity, in spirit, in faith, in purity." Monson said that Perry was one of the most kind, considerate and gracious men he had ever known and that he was honored to serve with him for many years.
"Remember that your father and grandfather still lives," Monson said directly to Perry's children and granchildren. "His plea to all of you… 'I have no greater joy than to hear that my children walk in truth.'"
Perry was ordained as member of the Quorum of the Twelve Apostles on April 11, 1974. Elder Perry will be buried in the Salt Lake City Cemetery where Gordon B. Hinckley and other general authorities are also buried.