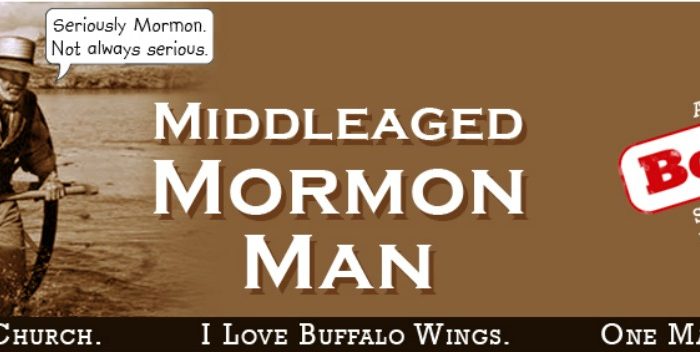 We can finally add an actual name to our love for the aka, Middleaged Mormon Man! Brad McBride is the man behind the blog and chose half time of the Brigham Young University/Utah State University football game to reveal his true identity on his blog. Here is the post.
No, this is not a joke. After almost four years, and more than 800 posts, the time has come for us to meet.
Let me introduce myself:
Hello, my name is Brad McBride. You might know me as Middleaged Mormon Man.
That's me.
I was born and raised in Bountiful, Utah. At fifteen, My parents moved us to Scottsdale, Arizona. From there I went to BYU, served a mission (Chile Viña del Mar), back to BYU, married, then back to Arizona.
I have lived in Gilbert for the last 26 years. You might have heard of it. We have a brand new temple! (Don't covet – everybody can't live here.)
There you go. Odds are you don't know me any better than you know MMM, but it does have the makings of a fun "Six Degrees to MMM" game – Mormon style.
This is my EC. My Eternal Companion. The love of my life. My favorite person on the planet. She is the absolute sweetest, kindest, loveliest woman I know. (And most of you that know her would agree.)  God gave her to me to offset me being "me."
And, the FOMLs. In a bunch.
And the family (Because I know what you really want are pictures.)
Oh, and before I forget.  Murphy. (Yes, HE has his own Facebook page, and he's a dog. Do I sound bitter?)
Thanks to all of you for your love and support. So many of your sweet messages calmed some of my trepidation today. I will keep on rolling with my blog, and I hope you keep on reading.
(Now can we get back to business? BYU is getting throttled by the Aggies at halftime, and we get to watch General Conference this weekend. My announcement should be an itty-bitty blip on your radar. )