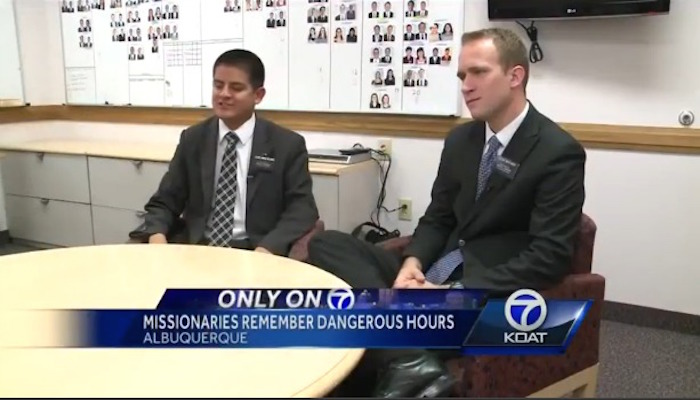 Update: The man who held the missionaries captive, Erwin Smith, has been arrested and faces charges of  kidnapping and aggravated assault with a weapon.
Two LDS missionaries serving in Albuquerque, New Mexico were held captive for three hours last week.
"The Spirit really comforted us," one of the missionaries, Elder Whitaker said. "Really what we did at that point was just try to calm him down."
According to LDS Living, "Elders Zuniga Delgado and Michael Whitaker met with a potential investigator in his home last week, where the man refused to let the two missionaries leave, using physical force to keep them in the residence."
Missionary abductions are more common than many members may think. Movies such as "The Saratov Approach" brought to light this important issue as it recounted the story of two missionaries, Elder Probst and Elder Tuttle, who were held captive in Russia in 1998. The two men were handcuffed in a small room for five days and held at $300,000 ransom. Eventually the Elders were released by their Russian captors and finished their two years of service in reassigned missions before returning home to their families.
Elders Whitaker and Delgado were able to escape when their captor went into the kitchen. As he walked away, the Elders headed swiftly for the door. Their captor was arrested shortly thereafter.
Despite the cruelty these Elders dealt with, they were out tracting the very next day. Elder Whitaker said that, "In all honesty, it's those people that we are trying to help out the most."