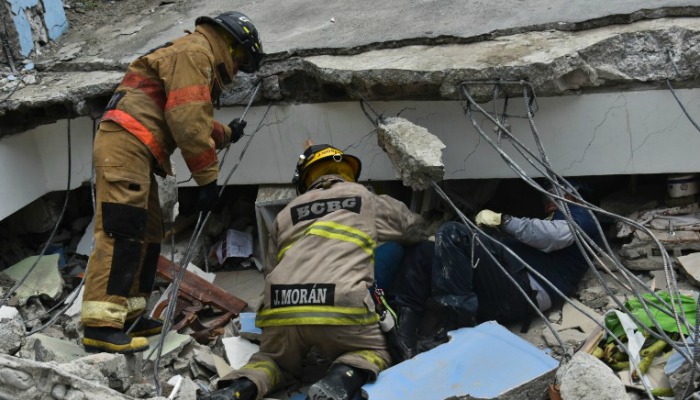 A representative from The Church of Jesus Christ of Latter-day Saints confirmed that all missionaries serving in Ecuador are safe following a devastating earthquake.
A 7.8 magnitude earthquake struck the country of Ecuador on Saturday night. Deseret News quotes Church spokeswoman, Kristen Howey, saying, "We are grateful to report that all of our missionaries in the region have been contacted and are safe."
Howey explained that the devastation the earthquake caused is making it difficult to determine how "members and church facilities have been affected."
On Sunday evening, Ecuador's president, Rafael Correa, confirmed that the death toll has reached 272. [This number was updated Wednesday to be over 500 dead.] This quake is the deadliest to hit Ecuador since 1987. CNN reports that the death toll number is expected to rise as rescue teams continue to sift through the debris. It's estimated that the earthquake injured more than 2,500 people.
On behalf of the Church, Howey expressed her sorrow for those affected by the earthquake, saying, "We are mindful of the destruction and loss of life caused by this earthquake and are praying for the people of Ecuador."
Death Toll among Ecuadorian LDS Members
Ten Latter-day Saints were among the hundreds killed in the earthquake in Ecuador. Five members of the Portoviejo Ecuador Stake died, including a branch president, his wife, and daughter.
A dozen Mormon meetinghouses were also damaged during the magnitude-7.8 quake. As of Tuesday, April 19th, it remained uncertain the degree of damage at the buildings or if they can be repaired.
Priesthood and welfare leaders of the South America Northwest Area are assessing the damage and distress caused by the earthquake in order to deliver help in the most efficient way possible. Ecuadorian members are coming together in "Helping Hands" efforts to prepare food and aid packages.
The Associated Press reported that the earthquake left a trail of ruin along Ecuador's Pacific coast—buckling highways, toppling air traffic control towers, and flattening homes and buildings. Beyond the death and injuries, thousands have been left homeless.
Update 4/23/16 — The LDS death count has been raised to 11. Aftershocks continue to be felt. For further details regarding earthquakes in both Ecuador and Japan, see this article in the Deseret News.